New Brand Image for British Free Range Goose
UK - A new brand identity for the British Free Range Goose is launched this Christmas — highlighting the green field lifestyle enjoyed by geese produced in keeping with tradition.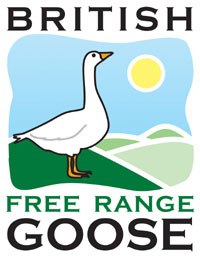 New brand image for British Free Range Geese - to be used by BGP members
"Geese are reared today as they've been through the centuries — in small flocks in the open air," says Eddie Hegarty, chairman of British Goose Producers, a sector group of the British Poultry Council,

"Nowadays they are typically reared through the autumn on grass rather than on corn stubble behind the harvest, but they do enjoy a very similar, natural lifestyle.

"Consumers can be sure that by choosing a British Free Range Goose, they are buying a fresh bird produced according to our time honoured tradition."

The bright, new logo will become part of the promotional material used by BGP members on product literature and websites — and is already seen on the roadside signs by some of the first to take up the new brand image.