New Image for British Free Range Goose
UK - A new brand identity for the British Free Range Goose is launched this Christmas, highlighting the green field lifestyle enjoyed by geese produced in keeping with tradition.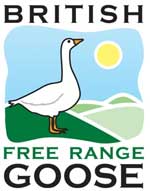 New logo for British Free Range Goose
"Geese are reared today as they've been through the centuries – in small flocks in the open air," says Eddie Hegarty, chairman of British Goose Producers, a sector group of the British Poultry Council.

"Nowadays they are typically reared through the autumn on grass rather than on corn stubble behind the harvest, but they do enjoy a very similar, natural lifestyle.

"Consumers can be sure that by choosing a British Free Range Goose, they are buying a fresh bird produced according to our time honoured tradition."

The bright, new logo will become part of the promotional material used by BGP members on product literature and web sites – and is already seen on the roadside signs by some of the first to take up the new brand image.