Pas Reform Expands in Indonesia
INDONESIA - Pas Reform has further bolstered its sales force in the Asia-Pacific region, with the appointment of a new Sales Director and the opening of a fourth sales and service office.
The Dutch hatchery technology company has a strong and growing presence in a region that forms an important focus within Pas Reform's international strategy.

Bas Kanters, MSc, joins the company's existing Asian Sales team from the newly opened Indonesian office – where his responsibilities extend beyond Indonesia, to include customers in South Korea, Thailand, Australia and New Zealand.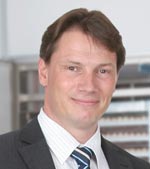 Pas Reform has appointed Bas Kanters to run its newly opened office in Indonesia with effect from 1 January 2011
Pas Reform Indonesia will operate as a sales and service centre, with the focus on swift, direct customer response and technical follow up. Customers will also have access to Pas Reform Academy – and Mr Kanters and the Indonesian team will work closely with Pas Reform's existing offices in Malaysia, India and Thailand.

With more than 10 years' livestock industry experience, Mr Kanters graduated in 1996 with an MSc in Animal Science from Wageningen University in the Netherlands. He has lived and worked in Asia for five years, with previous roles as area sales manager for Hybro BV and more recently area sales manager for VDL Agrotech equipment from the Netherlands.

Mr Kanters said: "This is an important step in my career and I am very pleased to be taking it with Pas Reform's dynamic team in Asia. Great work has been done here and I have been impressed, especially in recent years, by the Company's progress since the introduction of Smart single-stage incubators – and by its commitment to its customers."

Pas Reform CEO, Bart Aangenendt, commented: "A few years ago, realising the current and future potential of Asia within our worldwide operations, we set out a new strategy for Asia that focused on local presence in the region.

"We started that journey in 2008 with the opening of the office in Kuala Lumpur and have continued to grow, opening a sales and service centre in India in 2009. Bas has lived and worked here for a number of years. He understands the challenges and opportunities for the poultry industry - and we believe his skills will help us to achieve further growth in Asia with advanced, single-stage technologies."

Contact details for Pas Reform's new office in Indonesia are:
Raffles Hills
Blok J8 No.5
Kel. Sukatani
Kec. Cimanggis
Depok 16954
Indonesia
Mobile: +62 811 998 162
Telephone/Fax: +62 21 8459 9187
E-mail: [email protected]