Pindos Cooperative Targets Growth
GREECE - Pindos Ioannina Agricultural Poultry Farming Cooperative, the largest poultry sector cooperative in Greece, has awarded the development of a new hatchery complex to Pas Reform.
In conjunction with Pindos' existing hatchery – commissioned with Pas Reform in 1994 – the new facility will double production to one million day-old broiler chicks per week by December 2011.

The new Pindos installation will include SmartSetTM setters, SmartHatchTM hatchers, hatchery automation and climate control systems. Pas Reform's project management team has designed the project and will consult on all aspects of the build and installation. Construction begins in May 2011.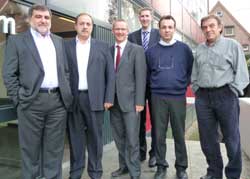 As President of Pindos Cooperative, Michael Kasses represents the interests of 560 member poultry producers, in a vertically integrated organisation that currently delivers 25 million broilers each year.

He says: "With 5,000 retail outlets to serve currently, demand for poultry and poultry products is growing here in Greece. The Cooperative has chosen Pas Reform for its innovation, reliability and cost-efficiency, as we focus on meeting home demand while at the same time expanding our export operations to the Balkans, Europe and Asia."

"Our partnership with Pas Reform to date has been very successful and we look forward to continuing this collaboration, as Pindos grows towards its vision and targets for the future."

Pas Reform's sole representative in Greece, Nikos Vazaios, is president of Intervaz SA and has worked with Pindos Cooperative since the commissioning of the first Pas Reform hatchery.

He comments: "Pindos is making great advances towards its goal of becoming the leading supplier of poultry meat in Greece. We are all extremely pleased to be a part of that ambition."