Axcentive Present at VIV Asia
THAILAND - Axcentive announces it will be present at VIV Asia in Bangkok in March 2011.
Professional disinfection is an essential part of the farm to fork principle, irrespective of country, food type and production or housing method. Halamid® is a professional disinfectant that performs under widely varying conditions and that makes it the product of choice also in Asia.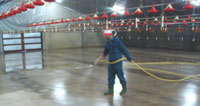 Axcentive is happy that it will be present as exhibitor on the VIV Asia show on 9 to 11 March 2011 on Hall 02 stand A030.

Its theme will be 'Halamid – your biocide in aquaculture' as particularly in this field, Halamid has some important advantages over other biosecurity measures. The tolerance of fish and crustaceans against Halamid is very good and while not leaving any residues, this makes it the best product for application in contact with live fish and shrimps.

Of course, Axcentive will be happy to meet current and new users and distributors related to poultry operations here as well. Present at the stand will be our Technical Service Manager, Jean de Barbeyrac, Michael Woo of ACSIL, our regional agent and Paul van Lenthe, Director of Axcentive.

Axcentive invites you to visit its stand and, in order to make this easier, you can obtain your invitation with a free entry by following this link [click here].