International Egg and Poultry Review: Russia
RUSSIA - This is a weekly report by the USDA's Agricultural Marketing Service (AMS), looking at international developments concerning the poultry industry. This week's review looks at the poultry situation in Russia.
Domestic poultry production grew 15.9 per cent to 1.658 million metric tons MMT) in the first half of 2010. Production slowed the second half due to increasing feed prices and summer heat that lowered average daily gains. Russia's Meat Union said local poultry production will grow 13 per cent in 2010 to reach 2.9 million tons, and an additional 10 per cent in 2011. USDA Moscow forecasts broiler production to total 2.00 MMT (ready-to-cook) in 2010 and 2.16 MMT in 2011. Turkey is forecast at 45,000 MT in 2010 and 55,000 MT in 2011. Russia's poultry production is 87.5 per cent broiler, 3.8 per cent turkey, 2.0 per cent geese and ducks and 8.5 per cent culled egg layers and broilers.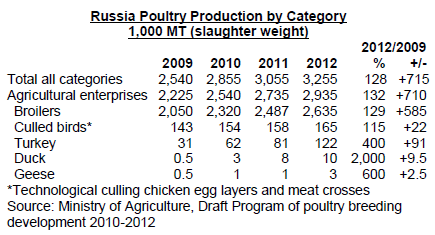 Poultry production in Russia is dominated by large agricultural enterprises. There were about 600 poultry producing in 2009, accounting for 88 per cent of total production. Higher productivity and reduced slaughter age increased broiler turnover from 4.0 (in 1990) to 6.5 (in 2009) and increased broiler output per egg layer from 78 kg (slaughter weight) in 1990 to 230 kg in 2009.

Russia is considering spending RUR174.7 billion (US$5.8 billion) during 2010-2012 on the programme "Development of Poultry to 2012 and to 2018-2020" to further increase domestic production. The main objectives are providing the Russian population with sufficient volumes of domestic poultry products, ensuring efficiency and competitiveness, and developing the Russian poultry industry's export potential. There are two stages: during 2010-2012 RUR174.7 billion ($5.8 billion) will be invested in the programme. During the second phase of 2013-2020, RUR472 billion ($15.7 billion), will be invested into the programme. The programme forecasts 2012 poultry production will increase by 715,000 MT (slaughter weight) over 2009 and another 1,245,000 MT by 2020. The programme plans to increase daily average daily weight gain of broilers by 28 per cent, improve feed conversion by 17 per cent, modernize and build new poultry farms using the state subsidies, and increase the production of turkey, geese and duck meat. Another target is the development of pedigree parental breeding stock in order to cut imports of hatching eggs from 27 per cent in 2009 to 15 per cent by 2012 and seven percent by 2020.

Russia expects to reach its targeted level of 85 per cent self-sufficiency by 2012, and then to start exporting poultry. Uncompetitive costs of production as well as veterinary-sanitary issues are likely to challenge Russia's ability to export outside CIS countries. Chicken paws will remain the top export derivative of local poultry production.

Source: USDA GAIN Report; news wires
Russia Announces New TRQs, Rethinks Ban on Frozen Poultry
Russia's Ministry of Economic Development (MED) announced the new tariff rate quotas (TRQ) for 2011. Russia reduced the poultry TRQ to 350,000 MT, removed the country-specific allocations, and narrowed the scope of products covered. Russia left the total frozen beef quota unchanged, but increased the US share from 21,700 MT to 41,700 MT. Fresh beef, pork, and pork trimming TRQ remain unchanged from 2010. On December 25, 2010, the MED distributed 25 per cent of the 2011 TRQ quantities for poultry, beef, and pork, in accordance with Customs Union Decision #505 (18 November 2010) and yet to be published GOR Resolution #1111 (24 December 2010). MED will distribute the remaining 75 per cent of quota allocation to importers by 15 April 2011.

From January 2010 through November 2010 Russia imported 452.4 thousand MT of poultry under HS code 0207, compared 832.8 thousand MT for the same period in 2009.

Russia's Chief Sanitary Officer Dr. Gennadiy Onishchenko signed Resolution #30 in June 2008 to prohibit the use of frozen poultry meat for manufacturing baby food, dietetic nutrition, and specialized food products for pregnant and nursing women, effective 1 January 2010 and to prohibit the use of frozen poultry meat for manufacturing into any type of food product, effective 1 January 2011. In November 2010, Dr. Onishchenko publically stated his intention to impose a complete ban on sales of frozen poultry meat, regardless of its use in processing. This would end all frozen poultry meat imports into Russia. After a large outcry of domestic and international concern, Dr Onishchenko recanted his intentions a week later.

After a long debate, on 21 December2010 the Ministry of Justice registered Resolution No. 145, which contained Amendment No. 21 that additionally prohibited frozen poultry meat's use in manufacturing delicacies, chilled natural half-finished, and food products not subject to thermal processing before retail trade effective January 2011, instead of the complete prohibition of use in the processing of all food products that was in the original Resolution.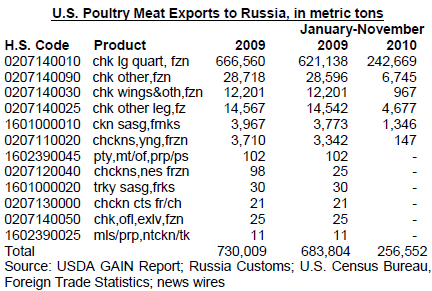 Further Reading