International Egg and Poultry Review: US
US - This is a weekly report by the USDA's Agricultural Marketing Service (AMS), looking at international developments concerning the poultry industry. This week's review looks at the poultry situation in the US.
Based on data, total US exports of MSC (HS1602320035) increased 29 per cent from January-October of 2010 (50,763 MT) versus 2009 (39,244 MT). In October 2010, the US exported 5,382 MT, 15 per cent higher than September 2010 (4,665 MT) and up 75 per cent from October 2009 (3,077 MT). The Dominican Republic continues to be the lead market for US MSC exports by volume surpassing Colombia's 2009 lead. Significant increases in MSC exports were made to both the Dominican Republic and the Philippines in 2010 versus 2009.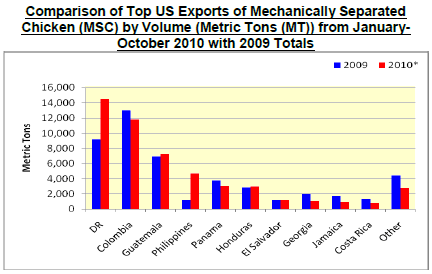 By value, total US MSC exports rose 21 per cent ($30,901,000) from January-October 2010 versus 2009 ($35,500,000). The US exported a total of $3,324,000 worth of MSC in October 2010, 12 per cent higher than September 2010 ($2,974,000) and up 109 per cent from October 2009 ($1,590,000). To date in 2010, the Dominican Republic ($9,716,000) was again the leading export destination of US MSC by value with Colombia trailing behind at $6,237,000.

2011 contract negotiations are mostly concluded with a few still working to finalize some contracts with Mexico. Although some negotiations persist, it appears that contract volumes for 2011 will be less than those in 2010 due to a variety of economic and consumption factors in Mexico. Prices for 2011 were slightly lower than those seen in 2010, but still higher than those typically seen in the past decade. New contract arrangements will begin this week. Present trading levels are steady and typical of the off-season.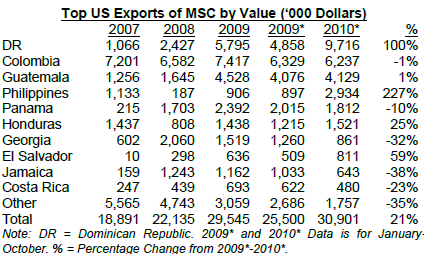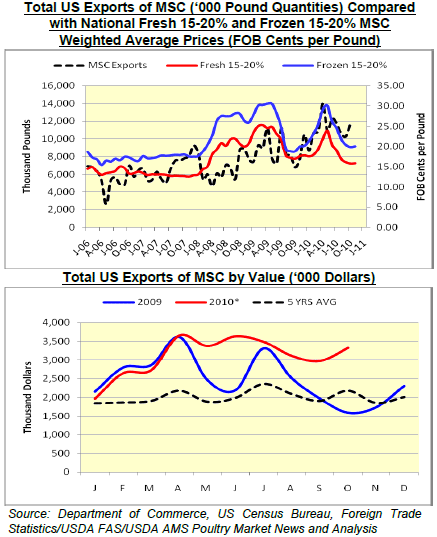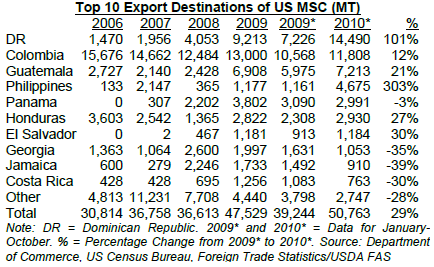 Comparison of Top US Exports of MSC in 2010 by Volume and Destination (Percentage of Total US MSC Exports)
Note: DR = Dominican Republic. 2010* = Data from January-October 2010.
Further Reading