Brown Named President of National Chicken Council
US - The next president of the National Chicken Council (NCC) will be Mike Brown.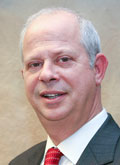 Mike Brown
Mr Brown is currently senior vice president for legislative affairs of the American Meat Institute, said NCC Chairman, Bernard Leonard. Mr Brown will join NCC in March to succeed George Watts, who is retiring after 38 years as president.

"The search committee considered many qualified candidates before recommending Mike Brown's election to the NCC Executive Committee," said Mr Leonard, who is group vice president/Food Service of Tyson Foods, Springdale, Arkansas. "We believe that Mike is the person who can lead NCC as it addresses the issues that will shape the future of the industry."

The search committee was assisted by the executive recruitment firm of Kincannon & Reed, an Allied Leader member of NCC. K&R is the only retained executive search firm focused exclusively on the food, agribusiness and life sciences sectors.

Mr Brown, 50, currently represents AMI to Congress and the Administration on governmental matters. He also serves as the treasurer of AMI's Political Action Committee, AMI-PAC.

"I look forward to the challenge of working with the chicken industry and following the great tradition of service and effective representation and leadership set by George Watts," Mr Brown said. "I accept this position with enthusiasm."

Mr Brown joined AMI in May 1995, after serving eight years as a legislative assistant for former Senator John Warner (R-VA), focusing on agriculture, food safety, labour, immigration, environment and international trade issues. He also previously worked as a legal publication specialist for the Federal Register, where he was responsible for providing information to Congress, federal agencies, trade associations and others on federal regulations and office programmes and publications.

Mr Brown earned his Bachelor of Science in political science and history from the State University of New York, Brockport. He and his wife, Kelly, live in Vienna, Virginia.