New Dimmable LED Broiler Lamp in AgriLamp Range
UK - LED lighting specialists, Glo lighting, has launched the AgriLampTM 30W Dimmable Broiler Lamp designed specifically for the broiler segment of the poultry industry.
It is the first 20-lux poultry lighting solution to be made available in Europe, making it fully compliant with the 2010 EU directive relating to the welfare of farmed animals, which specifies that from seven days to three days before the foreseen depopulation, light intensity must be a minimum of 20 lux (measured at bird head height) in at least 80 per cent of the useable area.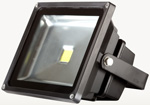 AgriLamp 30W Dimmable Broiler Lamp
The AgriLamp 30W Dimmable Broiler Lamp delivers a controllable, evenly distributed light that completely removes dark areas, providing a uniform distribution for rearing day olds to fully grown quality birds. It has been designed specifically to provide wavelength and intensity for broilers in all broiler houses, making it a true alternative to 100-150W incandescent, Compact Fluorescent (CFL) and fluorescent tubes.

The Broiler Lamp dramatically reduces lighting-related energy consumption by up to 90 per cent, and each bulb is estimated to save farmers £52 per year in energy costs. Poultry farmers have the additional reassurance that the AgriLamp has an expected lifespan in excess of 35,000 hours to 75 per cent of its original output (10 times longer than incandescent light bulbs), bringing with it long-term cost savings. Furthermore, the AgriLamp has the lowest carbon dioxide emissions of any lighting technology on the market, is non-toxic and can be safely and easily recycled.

Ongoing testing shows that the AgriLamp incorporates important animal welfare benefits. The product range has been designed to flicker less than CFLs – an important feature for building a calmer flock. It is fully dimmable creating a true dusk-to-dawn environment, which is shown to produce a better feed conversion rate. Additionally, levels of infrared, which can lead to aggressive bird behaviour, have been significantly reduced compared with incandescent light bulbs and CFLs. Heat emissions have also been reduced by 50 per cent.

John Matcham, sales director of Glo Lighting, commented: The 2010 EU directive makes clear reference to lighting intensity, and we believe the AgriLamp 30W Dimmable Broiler Lamp is the first poultry solution in Europe to meet the 20 lux requirement, and is capable of delivering up to 80 lux in those first few days of rearing. This is an exciting addition to the AgriLamp product range, which responds directly to customer demand."

The AgriLamp 30W Dimmable Broiler Lamp is ready to stand up to the rigours of daily broiler production processes, and is suitable for use with generators and emergency battery systems, as well as use with mobile units where power is an issue. It comes complete with mounting bracket and can be supplied with water resistant connectors.

Glo lighting was established to create a range of industry-leading LED light bulbs for the commercial sector. Based in the UK, USA and Hong Kong, Glo lighting's range of products offer exceptional, market-leading solutions to a wide range of lighting requirements. Glo lighting is a leading LED manufacturer with years of experience in designing and manufacturing the world's most innovative LED light bulbs for the poultry industry.

LED technology offers huge advantages over the CFL and following extensive testing and development with industry-leading egg and meat producers and Glo lighting says it is pleased to make this product available.