"Play to Your Strengths," Says Kelly
UK - Farmers and butchers should play to their strengths in competing for the Christmas turkey market, urges Paul Kelly, managing director of FarmGate Hatcheries in his annual letter to poult customers.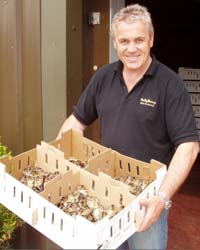 Paul Kelly
"The major retailers are no longer content with selling average turkeys," says Mr Kelly. "They are looking to supply better quality turkeys with points of difference.

"But the farmer and butcher have some very strong cards to play – points of difference that the major retailers will not be able to match in any volume."

Mr Kelly highlights the tremendous perceived value of meeting the local butcher or collecting from the farm – 'Nothing like personal service for the Christmas feast and the feel good factor' – dry processing and hanging to mature the flavour.

He also offers a three-point plan for producers to maximise the opportunity:
Look long and hard at the prices the supermarkets charge – last year, £6.99 to £9.99 for free-range bronze and £5.99 to £6.99 for free-range white. "Over my travels round the country I see too many producers underselling themselves," said Mr Kelly.
Grow enough turkeys to satisfy spikes in demand and weight ranges in your known market. "The cost of buying in, if short, is about £30 – double the cash cost of producing a turkey," he continued.
Buy as-hatched poults for one-third of your order – "the best way of saving money" – which with two-thirds sexed hens will provide a great spread of weights to suit just about every order book. And no need for more than two placements per season, Mr Kelly added.