Success for Ross Middle East GP Training
SCOTLAND, UK - Aviagen recently welcomed two senior managers from key Ross GP distributors in the Turkey, Middle East and Africa region (TMEA) to Scotland.
Karwan Bakir, Operations Manager, from Vano-Rasun, Republic of Iraq and Majed Al Dwaihy, Production Manager, Pure Breed Poultry Co, Kingdom of Saudi Arabia spent a week in the company's office, GP farms and laboratory to enjoy presentations on a number of subjects and get first-hand experience of the many different departments which form part of Aviagen.

The visit was hosted by Ross Technical Service Managers, Hosam Amro and the latest member of the team, Robert Haggarty, who took great pleasure in meeting these key regional customers for the first time.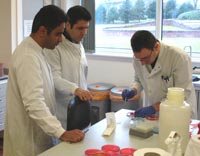 Majed and Karwan also enjoyed a presentation on Aviagen's R&D, meeting with the veterinary, personnel, accounts and sales order processing departments to share experiences and take away learning points for their own organisations.

One of the highlights during the visit was a trip to two Grandparent (GP) farms in the South of Scotland where the visitors were able to discover first-hand the excellent facilities and the major emphasis on biosecurity found within Aviagen's farms. On the last day of their visit, Majed and Karwan spent time in Aviagen's veterinary laboratory.

Mr Bakir summarised his experiences, saying: "It was a great opportunity for me to get a close insight into the different departments of Aviagen and to trace our Ross stock from its beginnings on biosecure Scottish farms. I took away many learning points from the visit which will help various departments in our company. I was particularly impressed with the GP farms and the Veterinary Laboratory where I was amazed by the high level of techniques and technology used. The amount Aviagen invest in quality control every day is fantastic."

Mr Al Dwaihy added: "In the last few days, we learnt a lot from the different Aviagen specialists and from visiting the farms and the laboratory. There is such great effort put into the development of the Ross breed and the delivery of our chicks and I enjoyed sharing our experiences with my friends at Aviagen. I will now take back many points to my team and apply them to our own production."

Mr Haggarty said: "I really enjoyed the opportunity of meeting Majed and Karwan and to spend time with them. We are committed to constantly sharing information with our customers and to ensure they get easy access to our network of specialists. This visit gave us a great platform to do this and I look forward to working closely with Majed and Karwan and their colleagues."