CME: Great Interest Shown in Upcoming USDA Report
US - USDA will publish on 31 March its annual Prospective Plantings report, which will provide the first estimate of the number of acres that US farmers will plant this spring, write Steve Meyer and Len Steiner.
For those that are not closely familiar with this report, the acreage report is based on a survey of farmers conducted between late February and mid March. A representative sample is selected to participate in this annual survey and producers are asked to provide an account of the number and type of acres they have planted or will plant in the current crop year. The survey focuses on planted acres and a later survey (June) will revisit the topic and ask producers about harvest expectations.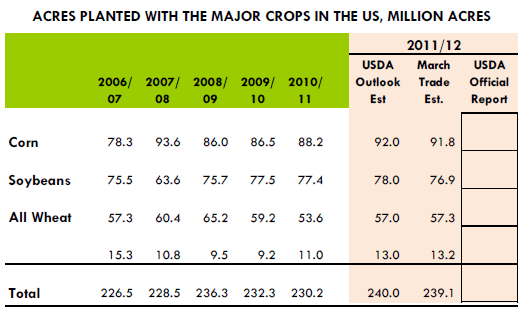 Needless to say, there is great interest in the upcoming survey results given very tight supply conditions for a number of crops. USDA provided an early estimate as to the number of acres to be planted this spring in its Outlook Forum but those estimates were not based on survey results but reflected the opinion and understanding of USDA analysts at the time. As you can see from the table above, the USDA forecasts from the Outlook forum indicated that: corn acres are expected to increase by 3.8 million acres or 4 per cent from the previous year; soybeans acres are expected to increase by 0.6 million acres or 1 per cent; wheat acres are expected to jump 3.4 million acres or 6 per cent; and finally cotton acres were expected to increase 2 million acres or 19 per cent. A pre-report survey of analysts conducted by Down Jones recently for the most part shows that private analysts generally agree with the USDA numbers. The only exception being soybeans, which private analysts expect will be down about half a million acres compared to a year ago.

A couple of questions jump to mind looking at the summary above. First, will the expected increases in acres be enough to alleviate some of the supply shortages we have seen develop in recent months. After all, the corn balance sheet shows that by the end of the 2010/11 marketing year, ending stocks will be the smallest (on a stocks/use ratio) since 1995. The situation with wheat and soybeans is not much better while US cotton ending stocks in the current year are expected to be down to just 1.9 million bales, compared to 2.95 million bales a year ago and 6.34 million bales in 2008-09. The short answer is: maybe - but only if everything goes right and they rarely do. At 92 million acres and above trend yields (165 bu./acre) could add about 1.5 billion bushels to US corn production. However, keep in mind that even with that kind of increase, the stocks to use ratio for the 2011/12 crop likely will stay at around 8 per cent compared to 14 per cent and 13 per cent in 2008/09 and 2009/10. Also important to note is that tight supplies are not the only issue in the corn market.

In the last few years, we have seen a steady expansion of ethanol production and corn exports remain very strong. Very high crude oil prices and a weak US dollar will further support this demand. High prices for cattle and hogs should keep current animal units in place, so no demand reduction there. The second question we have looking at the table above is: will all the expected acres really show up? In 2007/08, a spike in corn prices caused corn planted acres to increase by more than 15 million acres (from 78.3 mil to 93.6 mil). However, that kind of increase was realized by shifting acres from soybeans to corn and the combined acreage of the top four crops only increased by 2 million acres.

This year, however, we are asking farmers to increase acres by almost 10 million acres for these four crops. Our expectation is that with current price levels, acres will likely be there but we could see some surprises, especially for beans and wheat. There is some speculation in the trade that corn acres could be even higher than expected given that expected margins are much higher than other crops. It is part of the reason for the nervousness in corn trading recently.