International Egg and Poultry Review: Brazil & EU
BRAZIL & EU - This is a weekly report by the USDA's Agricultural Marketing Service (AMS), looking at international developments concerning the poultry industry. This week's review looks at Brazil's request to the World Trade Organization panel to investigate EU poultry meat regulations.
According to trade sources, Brazil is getting ready to confront the European Union at the World Trade Organization (WTO) regarding EU restrictions on imports of Brazilian chicken (changes in marketing standards for broiler meat).

Brazil is complaining about European Commission Regulation No. 1047/2009 and the definition of fresh poultry. The EU issued new rules effective 1 May 2010 that prevent product that has been frozen to be labelled as fresh. The regulation states poultry meat which has been frozen or quick-frozen must be sold in that state or be used in preparations marketed as frozen or quick-frozen, or in meat products. The rule prevents chicken meat from Brazil from being thawed and processed in Europe into foods such as marinated chicken for barbecues.

The EU's executive commission says thawed meat may not be used to make 'fresh' ready meals because that would mislead European consumers and distort competition between fresh poultry meat and fresh poultry meat preparations. Such meals would be required to be sold as frozen. Brazil says the new rules discriminate against non-EU producers, who usually freeze chicken meat for transportation.

The EU imported 150,257 metric tons (MT) of frozen cuts of fowl in 2010, down 19 per cent compared to 184,488MT in 2009. Most of the imports were boneless cuts (131,065MT in 2010 and 150,545MT in 2009).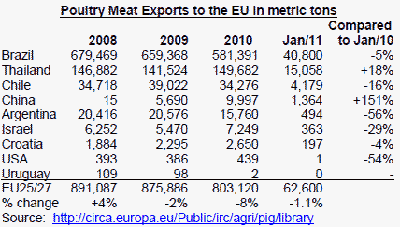 Brazil and Australia first raised a concern about EC regulations on marketing standards for poultry meat in June 2009. Brazil and Australia argued that the proposal would alter the current definition of 'fresh poultry meat'. In particular, Brazil believed that defrosted and fresh poultry meat are like products and that the EC proposed amendment would ban defrosted poultry meat from the EU marketplace, thus discriminating against non-EU producers, since distant suppliers had normally to freeze their meat products for export. Australia questioned whether the EC standard is consistent with existing international standards and suggested that the European Communities consider alternatives to the current marketing standard, such as including in the label a reference to 'previously frozen or chilled' product.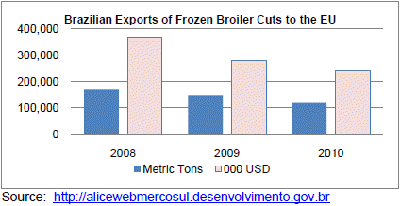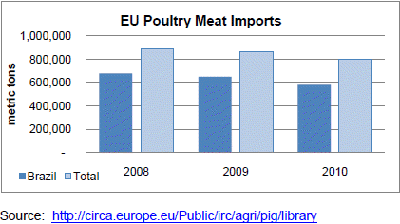 The European Communities pointed out that when consumers buy a preparation that is labelled 'fresh' they expect it not to contain defrosted meat. The EC also stressed that the current proposal do not ban the sale of frozen poultry meat, rather it restricts the use of the term 'fresh' to poultry meat that has not been frozen. Also, the EC noted that frozen poultry meat only represents a very small part of Brazil's exports to the EC.

Brazil has launched two previous WTO proceedings against the EU. Dispute DS69 Measures Affecting Importation of Certain Poultry Products on 24 February 2007 and DS269 on Customs Classification of Frozen Boneless Chicken Cuts on 11 October 2002.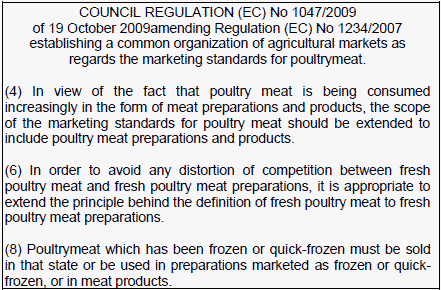 Sources: Official Journal of the European Union; USDA GAIN Report BR 0703; WTO; news wires
Further Reading