Producer Survey: Geese Benefited from Harsh Winter
UK - The harsh weather last autumn had a silver lining for goose producers, according to results of the annual survey carried out by Norfolk Geese, the UK's largest gosling supplier.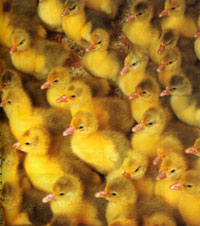 "The weather provided the perfect environment to finish the birds which is shown up in our survey as a much improved performance in the range of weights," says Eddie Hegarty, partner of Norfolk Geese. "The geese were on average at least half a kilogram heavier."

Coming after the better quality of the early autumn grazing, the hard frost stimulated the birds' appetite and led to them putting on additional weight while also facilitating the plucking and chilled storage.

Despite the economic climate, producers experienced another healthy season of Christmas sales. This year he is again seeing a trend to earlier ordering with the smaller customers increasing their production slightly and larger producers continuing at roughly 2010 levels.

Norfolk Geese — based at the Pulham Market farm where the business was founded by Mr Hegarty's father-in-law John Adlard more than 40 years ago — sells the traditional Legarth strain which produces 5 – 6 kg oven-ready geese and also the larger framed SuperStow for 7 – 8 kg finished weights.

Last year the gosling price was held, but with the big leap in feed costs the 2011 goslings will be around 6 per cent dearer with the hatchery absorbing part of the increased costs.

Over the past year Norfolk Geese has seen an increase in demand for organic goslings. The parent stock has been certified by the Soil Association and a second generation organic flock in Essex is providing the goslings for this market.

True to tradition, the first goose egg was laid on Valentine's Day and the first goslings will be available from mid April.