Pas Reform's SmartPro Debuts in Asia
THAILAND - Pas Reform has officially unveiled its internationally acclaimed SmartProTM incubation systems for the first time in Asia, amidst a fast-growing order book from the region.
The Dutch company exhibited at VIV Asia in Thailand last month (9 to 11 March 2011), highlighting SmartPro'sTM Asian launch by hosting a seminar at the Imperial Queen's Park Hotel on Bangkok's famous Sukhumvit Road, during the event.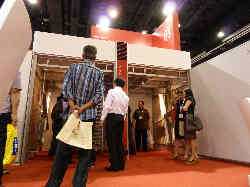 Pas Reform representatives from Thailand, Indonesia, Malaysia, South-Korea, New Zealand, China, Viet Nam and Bangladesh attended presentations by CEO, Bart Aangenendt, and Director Sales & Business Development, Bouke Hamminga, as they revealed in detail the innovations and advances behind SmartPro incubation technologies.

Among the features highlighted were Pas Reform's VortexTM-based airflow principle and Adaptive Metabolic FeedbackTM (AMFTM).

Tested and proven as the most effective method of exchanging energy, CO2/O2 and moisture in the incubator, Pas Reform has been the first in the hatchery sector to employ Computational Fluid Dynamics (CFD), to develop its ground-breaking new Vortex system.

AMF, meanwhile, ensures that throughout incubation, the specific metabolic needs of each embryo are met during growth and development, to promote greater uniformity by optimizing airflow, the evaporation of moisture and air redistribution.

Over the three days in Bangkok, Pas Reform welcomed many visitors to their stand. Pas Reform is, says Mr Aangenendt, enjoying significant growth in Asia.

He said: "It is very clear that our Agents and representatives here have wasted no time in bringing SmartPro and its new technologies to our customers in Asia as soon as they were available.

"Asia has extended a warm and enthusiastic response, both to Pas Reform and to SmartPro – and we very much look forward to strengthening and growing our relationships here in the future."