Second Cobb Triumph for UK Flock Manager
GLOBAL - Cargill Meats Europe is the latest winner of the Cobb Flock of the Year for Europe, Middle East and Africa region - and the award is a second personal triumph for breeder farm manager, Adrian Nicholas.
Five years ago, he managed the flock that won the award for Corbett Farms which supplied hatching eggs for Cargill's UK poultry enterprise then known as Sun Valley.

Now working as farm manager at Cargill's Yarpole Farm, near Leominster, Hereford, the flock of 26,000 Cobb 500 parents averaged 144.13 chicks per breeder – three chicks ahead of the previous award winner.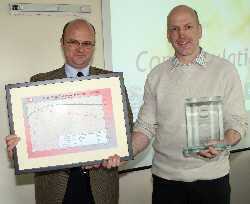 The flock peaked at 84.6 per cent and laid 168.8 total/164.5 hatching eggs to 60 weeks, with a cumulative 87.6 per cent hatchability and 4.5 per cent mortality.

Congratulating the winners, Antony Taylor, Cobb account manager for UK and Ireland, benchmarked this result against UK and EU performance – it compares with an average of 140.9 chicks per breeder among the top 25 per cent UK flocks and overall average of 132.8 chicks per breeder.

Award plaques and certificates were presented to Mr Nicholas, rearing farm manager, Derek Morris and their colleagues, by Pelayo Casanovas, sales and technical director of Cobb Europe. Cobb UK and Ireland technical service manager, Mark Foote, paid tribute to the teamwork and detailed management through rearing, production and hatchery that had contributed to the success.

John Reed, agricultural director of Cargill Meats Europe, said the award showed the highly competitive potential of the Cobb 500 as well as the hard work of his employees. He added: "It sends a message to the rest of the business in terms of what can be achieved."