VIV Asia Success Hailed by Aviagen
THAILAND - Aviagen has declared the recent VIV Asia one of the best yet following a packed exhibition stand and a successful seminar programme.
With Aviagen's three separate brands being represented, over 2,000 people visited the Aviagen booth over the three-day event. In total, over 30 Aviagen personnel attended the show, including the local brand teams and regional specialists, supported by senior corporate personnel.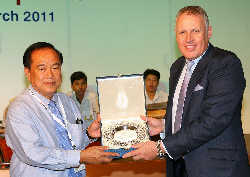 Bob Dobbie presenting Khun Sanya with recognition award
Bill Souther, Aviagen's Senior Vice President for Asia, said: "We were delighted with the number of visitors we had during VIV Asia. We had standing room only on our booth on each day, which highlights the ever-increasing popularity of our brands and the ongoing growth in poultry production across the region.

"Our three brand teams and the nutritionist, veterinarian and geneticist working with customers in our region, were happy to meet many friends from Thailand, China, India, Australia, New Zealand, Viet Nam, Malaysia, Japan and other countries across Asia. We also noticed how many more visitors from Pakistan and India we had which is testament to the growth in poultry industry in these countries.

"All our brands have their own merits and strengths, which is why we offer our customers a real choice that fits with their business model. We've seen a huge uptake across all the brands in the region and are particularly pleased with the growth in sales at Indian River, which is undergoing something of a resurgence at the moment."

In addition to visitors from the region, Aviagen also welcomed a considerable number of visitors outwith the Asian and Pacific region to their exhibition stand.

John Maguire, Ross International Sales Manager, Middle East and Africa, said Middle Eastern delegates particularly enjoyed the event, commenting: "For many customers from the Middle East, VIV Asia is now a very popular destination. It was a good opportunity for Aviagen's global customers to meet and exchange information. The overall consensus of my customers was that the exhibition was very relevant and provided them with information that will be of benefit to their business."

The Aviagen technical team also launched new Grandparent (GP) manuals for all brands. In conjunction, three farming forums covering Arbor Acres, Indian River and Ross, were held to highlight the key points and provide a platform for open discussion. All were very well attended and provided an opportunity for customers to get a formal introduction to the new GP information and meet the three brand teams.

Bruce Evans, Regional Technical Manager, commented: "The farmers' forums were a real success and demonstrate the importance of having local teams and local knowledge to provide real support to our customers."

VIV Asia also provided an opportunity for social meetings with Aviagen hosting a dinner for key customers at the Bangkok Trade and Exhibition Centre. The dinner was attended by over 100 guests. One of the highlights of the evening was a presentation to Sanya Theimsiri for 40 years' service with Arbor Acres Thailand.

Bill Souther said: "Khun Sanya has played a major part in the Thai poultry industry and in the success of Aviagen products for the past 40 years. We would like to thank Sanya for all his endeavours and look forward to working with him for many years to come."