Danish Project Targets Innate Disease Resistance
DENMARK - A €2.3-million project to target a 'miracle protein' that could hold the key to robust health in poultry is moving ahead at a Danish research institute with the support of Cobb.
The protein mannose-binding lectin (MBL) is known to play a role in enhancing the immune system and the agricultural sciences faculty at Aarhus University has found its level much higher than normal in the Hellevad strain of egg layers, a traditional breed found in the remote northern corner of Jutland.

With the help of €1.55 million grant from the Danish government and €350,000 from Cobb, the four-year project is focusing on genotyping to identify the gene or combination of genes responsible for MBL levels.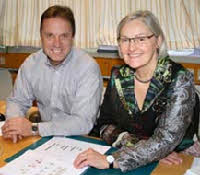 above: Mitch Abrahamsen and Helle Juul-Madsen pictured in the office at the Danish institute
below: Hellevad chicken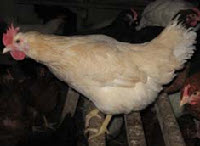 Dr Helle Juul-Madsen, senior scientist at the institute, says they were astonished to find the MBL level in the Hellevad strain two to three times the normal level in commercial egg layer breeds.

The MBL protein has developed a reputation as a pathogen detector, binding to mannose and other sugars on the pathogen surface and triggering the immune system to destroy viruses, bacteria, fungi and parasites.

"It is so effective in enhancing the innate immune system that it has even been called the 'miracle protein," she adds.

Dr Mitch Abrahamsen, Cobb vice president of research and development, states: "We're excited to be involved in this project as the continual improvement of the innate immune system in our commercial broilers is a key focus of our research programme. The demonstrated experience and expertise of Dr Juul-Madsen and her research team was a critical factor in determining our desire to participate, and bodes well for the success of the investigation."

The Danish work has already targeted DNA sequences believed to be linked with MBL levels. The scientists are searching for changes in the DNA coding – differences in the sequence of nucleic acids, termed single nucleotide polymorphisms (SNPs) – that represent alternative forms, or alleles, of a gene. Then the link with a particular trait or phenotype, has to be validated.

The secret to MBL levels could lie within the gene itself, or perhaps that part – the promoter region – which controls the switching mechanism that turns on the expression of a gene into a particular enzyme or protein.

The project will establish the MBL levels in the Hellevad parent lines and whether there is a sex linkage. Cobb is determining the MBL genotypes of its pure line breeding stock and seeking to validate the role of the protein in enhancing immunity against diseases such as salmonella and E. coli.