International Egg and Poultry Review: Global
GLOBAL - This is a weekly report by the USDA's Agricultural Marketing Service (AMS), looking at international developments concerning the poultry industry. This week's review looks at poultry imports by South Korea and egg prices in the EU and US.
South Korea has added further tariff-rate quota (TRQ) for agricultural products. The Ministry for Food, Agriculture, Forestry and Fisheries (MIFAFF) announced temporary duty reductions on an additional list of tariff-rate quota (TRQ) items on 11 May 2011 with an effective date of 12 May 2011. This follows a previous announcement on 7 March 2011 and increases the scope of agricultural products covered.

The announcement on 7 March established a quota of 300 metric tons (MT) of dried egg powder (HS code 040891) subject to a zero per cent duty until 30 June 2011. The new list adds a zero duty 50,000MT TRQ for frozen whole chicken, not cut in pieces, excluding chicken weighing not more that 550g (HS code 020712); and chicken legs, breast and wings (HS code 020714), effective until 31 December 2011.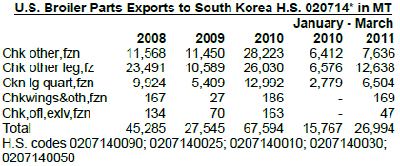 South Korea experienced only a slight drop in broiler production resulting from highly pathogenic avian influenza (HPAI) outbreaks and lower productivity during the unusually cold winter. The scope of the outbreak is relatively small in terms of total inventory, and the affected broiler growers are expected to re-populate their flocks quickly.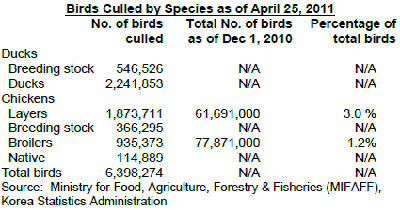 Demand for chicken has increased due to shortages of pork from earlier outbreaks of FMD, high prices of red meat, and the radiation fears of fishery products stemming from the nuclear crisis in Japan. The recent spate of HPAI outbreaks did not cause consumers to cut back on chicken consumption because they have already lived through past outbreaks and are well aware that proper handling and cooking eliminate the already low risk of contamination.

Korea's official import estimate for US broiler meat, which USDA released in April, was raised about 20 per cent to 110,000 tons to reflect the strong demand. According to local trade statistics from January to March, chicken imports are up 38 per cent compared to the same period a year ago. Most of the increase is attributed to US chicken sales, which climbed to nearly 20,000 tons during this period, an increase of 118 per cent. Imports of Brazilian chicken fell 33 per cent to 6,600 tons from January to March, reportedly because of stronger demand from Japan.
Source: USDA Foreign Agriculture Service GAIN Reports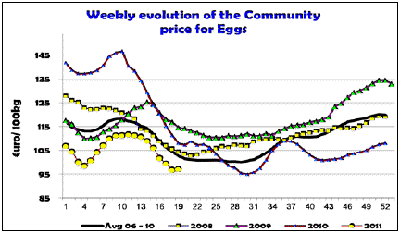 Weekly average price leaving the packing station, excluding VAT. Germany, Austria and Sweden barn egg prices, all other cage egg prices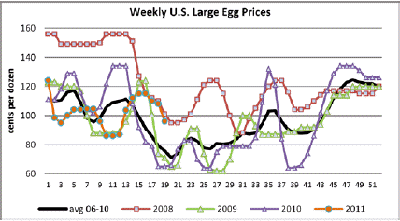 US eggs: Northeast cartoned large white eggs to volume buyers, delivered warehouse, cents per dozen.
Source: USDA AMS Poultry Market News and Analysis

Further Reading
| | | |
| --- | --- | --- |
| | - | You can view the full report, including US egg and egg products exports by month for the last year, by clicking here. |