Kuhlencord Celebrates 30 Years at Big Dutchman
GERMANY - Bernd Kuhlencord from Bassum is now celebrating his 30-year jubilee at Big Dutchman.
In 1981, after graduating from university with a degree in Business Administration and interim employment in the area of plant construction, Bernd Kuhlencord started work at the livestock housing equipment supplier in Calveslage, Germany. Since then, the Big Dutchman Managing Director, who also speaks excellent French and English, has significantly influenced the development of the poultry housing equipment business unit where he has been employed in key positions.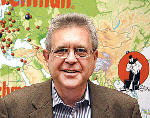 Bernd Kuhlencord
His sharp ability to recognise customers' needs as well as his diplomatic skills proved successful right from the beginning of his career as a sales manager for the Arab region as well as manager of a large poultry house project in the Near East.

In 1985, conversion of the former subsidiary into a privately owned family business took him in a new direction. Within the scope of the consequent re-organisation, Mr Kuhlencord developed new sales structures for the areas poultry and pig housing equipment. This basis, which also included the setting up of the sales support team, is still operating today.

At the beginning of the 1990s, constantly increasing sales and an expansion in the number of employees together with the globalisation of the business meant that new organisational structures were needed. Ever since this time, Mr Kuhlencord has been responsible for the marketing of poultry housing equipment in Western Europe, Africa as well as the Near and Middle East in the capacity of Managing Director of Big Dutchman International GmbH.

"When you started working here, there were 125 employees at the company headquarters in Calveslage," Bernd Meerpohl, chairman of Big Dutchman AG, reminisces on the occasion of an in-house celebration. Meanwhile there are nearly 800 persons employed here and worldwide as many as 1,800 employees. "Our very successful position today is due also to your never-ending commitment. You have made a unique impression on this company," said Mr Meerpohl in an expression of gratitude and recognition of Mr Kuhlencord's special achievements.

The company management and colleagues congratulated him and wished him ongoing pleasure and success in his work.