Launch of The Happy Quiche
UK - The Happy Egg company has launched the happy egg co. quiche at Tesco Express stores.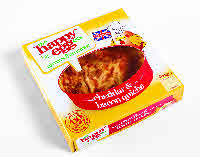 If you had a mission to revolutionise the egg category, already achieved £50 million of annual sales and a very healthy growth rate year-on-year, you might be tempted to sit back a bit. Not so at the happy egg co., where there is much more to be done. Building on their success so far in shell eggs, the happy egg co. launches the happy egg co. quiche, with initial listings in 600 Tesco Express stores rolling out from mid-May.

In the last year, Britain spent £140 million on chilled quiche but the category has only seen growth of 0.5 per cent year-on-year (Kantar World panel; 52 weeks ending 20 March 2011).

Rob Newell, Head of Brands at the happy egg co., says: "Whilst there are some retail offerings that contain free range eggs, our consumer research identified that this is often not clear to shoppers. Shoppers who didn't buy quiche also told us that their views of quiche remained largely stuck in the 1970s with the help-yourself buffet: that mainstream flavours were uninspiring, and that the premium branded offerings were simply too expensive."

The first two recipes to launch are Mature Cheddar & Maple-Cured Bacon and Smoked Salmon & Fresh Spinach.

Mr Newell added: "We know that consumers really relate to the values of the happy egg co and shoppers' responses to the idea of a happy egg quiche have convinced us that these great new products will be very well received."

the happy egg co. quiche has a recommended retail price of £2.79 for 400g and contains no artificial colours or flavours.