Seasonal Turkey Gnat Warning for Louisiana
LOUISIANA, US - A seasonal black fly outbreak could affect the state's residents and animals: turkey gnats are a serious pest to chickens and turkeys and a nuisance to humans.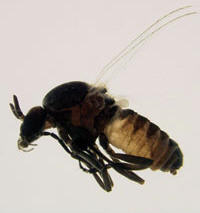 Turkey gnat
Photo: Chris Carlton, Louisiana State Arthropod Museum, LSU AgCenter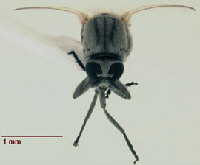 Many Louisiana residents who have been outside during the day recently have probably noticed a fast flying gnat buzzing around their heads. People who have been bitten may have noticed a red swelling reaction, according to the School of Veterinary Medicine at Louisiana State University.

Starting around 21 April 2010, reports began to come in that gnats were attacking poultry, quail and caged birds. On approximately the same date in 2011, black flies began to appear. The fly is the turkey gnat, Simulium meridionale, which develops in large rivers. The turkey gnat is a serious pest to chickens and turkeys. This outbreak will probably last for two to three weeks.

For humans, hats, bandanas and other clothing can be treated with permethrin clothing repellent as an effective way to lower annoyance. There are several products available that can be found in sporting goods stores and online. Clothing is treated and then allowed to dry for a couple of hours and then is effective protection for weeks even with multiple washings. Insect repellents containing DEET can also provide temporary relief. Certain authorities recommend that you avoid wearing light blue clothing.

In general, black flies will not enter barns and other enclosures. Protecting livestock, pets or birds during the day can be achieved by housing them in the darker recesses of enclosures. Since the black flies are diurnally active, animals can be turned out during the night. As for protecting animals with insecticides, products containing permethrin are available for most animals other than cats and are often effective depending upon application and formulation.

For confined birds, screening of cages is the most reliable method of protection. Using fans to protect birds during the day is recommended in some states.

Pet birds, such as parrots, bitten by the gnats may develop a severe local or systemic reaction that may lead to death. If you have parrots or pet birds that may have been affected by these gnats, please contact your veterinarian or the zoological medicine service at the LSU School of Veterinary Medicine at 225-578-9600.