World-Renowned Specialists for Cobb's Seminar
HUNGARY - More than 80 Cobb customers and other key players from the Hungarian chicken meat industry came together for the two-day seminar near Inárcs, near Budapest, to hear presentations from the world renowned specialists.
The event, organised by Cobb Germany at the Bodrogi Kúria Hotel, was introduced by director, James Truscott, and László Körösi, sales manager for Hungary, who said the aim was to help customers take full advantage of the Cobb 500 genetic potential.

Mr Truscott spoke about how the sales of Cobb 500 parent stock had increased not only in Hungary but across Cobb Germany's market area of 21 countries across central and eastern Europe.

Technical presentations covered the importance of accurate incubation in providing for the chick's temperature needs (consultant Dr Ron Meijerhof), heat stress related to different climatic conditions (Dr Andrea Molnár) and the importance of ventilation in achieving good environmental conditions (Matthew Wilson, broiler specialist in Cobb World Technical Support Team).

Winfridus Bakker, parent stock specialist in the team, explained how to achieve top results during the peak production of a Cobb 500 parent flock, while nutritionist Tony Marangos discussed nutritional strategies for these flocks.

James Truscott summed up: "It was a real pleasure to be with our Hungarian clients, who told us how successfully the Cobb 500 breeders and broilers are performing during challenging times."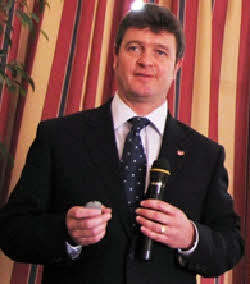 James Truscott speaking at the seminar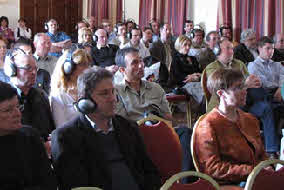 Part of the packed audience at the seminar