Agroziv Seeks to Regain Leadership in Balkans
SERBIA - The country's largest poultry meat producer, Agroziv, from the northern town of Zitiste, is planning to become again a major player in the Balkans following the import of a substantial Cobb500 breeder flock during the last week of May.
"The breeders arrived in excellent condition and have made a very good start in life," says Lubor Skalka, technical manager of Cobb Germany, which supplied the chicks. He was pleased how well the houses had been renovated and prepared for the chicks.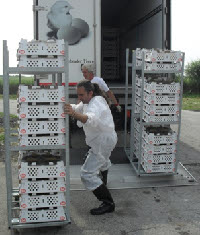 Istvá Rottek [front] and Laszlo Radovics unloading the chicks at the farm
After years of financial difficulty, Agroziv was purchased last December by the national gas company, Srbijagas. A new management team has been put in place at Agroziv, the former regional market leader in chicken production, now investing in further development and modernisation at all levels.

James Truscott, director of Cobb Germany, commented: "Cobb is being recognised as a stairway to a bright future for Agroziv. The Cobb500 will help the company reduce their meat production costs and become once again the major player in the Balkans."