International Egg and Poultry Review: Timor-Leste
TIMOR-LESTE - This is a weekly report by the USDA's Agricultural Marketing Service (AMS), looking at international developments concerning the poultry industry. This week's looks at the poultry situation in Timor-Leste.
On 24 May 2011 the USDA Food Safety Inspection Service posted export requirements for Timor-Leste. Poultry and poultry products are now eligible for export to Timor-Leste; all USDA federally inspected plants are eligible to export to Timor-Leste. Timor-Leste is located in Southeast Asia, on the southernmost edge of the Indonesian archipelago, northwest of Australia. According to FAO data, in 2008 Timor-Leste imported 4,500 metric tons of chicken meat.

The Democratic Republic of Timor-Leste is one of the world's newest nations and one of the fastest growing economies in the world with a stable political system. Independence took place on May 20, 2002 and Timor-Leste joined the United Nations on 27 September 2002. According to the 2010 census, the population is 1,066,582. Portuguese influence during centuries of colonial rule resulted in over 90 per cent of the population identifying itself as Roman Catholic with minorities of Protestants and Muslims. The government is a parliamentary republic; the country's constitution designates Portuguese and Tetum as official languages and English and Bahasa Indonesia as working languages.

Timor-Leste is one of the poorest countries in the world, but oil and gas revenues have surged since 2005 as major projects in the Joint Petroleum Development Area that Timor-Leste shares with Australia have come online. The economy is dependent on government spending and assistance from international donors. The official currency is the US dollar, although the Banking and Payments Authority of Timor-Leste issues coins known as "centavos" minted especially to be used in the country. The centavos are equivalent in value to US cents, 100 centavos = 100 US cents.

Livestock production is predominantly smallholders and integrated into individual household farm systems. Many Timorese families have animals at home; chickens and some ducks are mostly free to forage for their feed, and then given some extra from leftovers. A report in 2005 noted only two poultry farms, with less than 15,000 chickens each. The government of Timor-Leste and several non-government organizations (NGOs) have created projects for raising local chickens in several villages, which can become a source of income for families.

A survey conducted on the demand for fresh food products was conducted in 2006. The survey documented the volume and value of the top ten imported and locally supplied products in each category. Survey respondents were arranged in three categories: supermarkets and/or importers; restaurants; and food catering services. Data from interviews with supermarkets and/or importers and larger restaurants indicated over 360,000 eggs/month were imported. Extremely strong demand for chickens and eggs were mainly supplied by imports; however, a large locally operated poultry/layer farm indicated that local egg production can be competitive in Dili (the capitol). Poultry production was not competitive with imports from Brazil.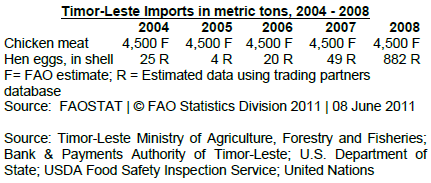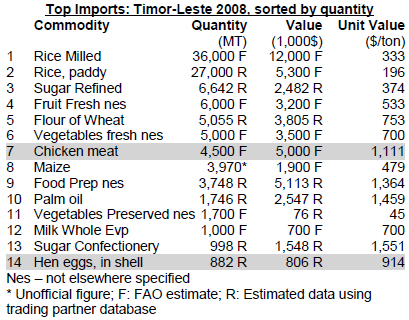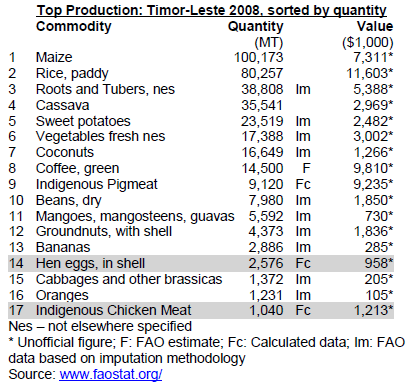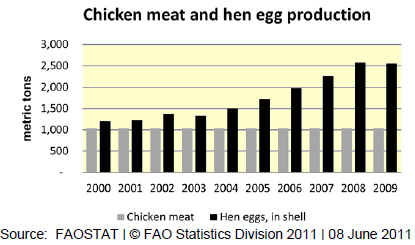 Further Reading