CME: Producers Struggle with High Feed Costs
US - US livestock and poultry producers continue to struggle with high feed costs relative to output prices, according to Steve Meyer and Len Steiner.
USDA's monthly Agricultural Prices report, released last week, includes monthly estimates of the ratio of output prices to feed prices for the various species.

Feed cost measure range from just corn in the hog-corn and fed steer-corn ratios to more complex mixes of ingredients for both poultry species.

Chicken feed is computed as 58 per cent corn and 42 per cent soybeans, recognising this much higher inclusion rate for soybean meal in chicken diets.

Turkey feed uses 51 per cent corn, 28 per cent soybeans and 21 per cent wheat.

Note in the chart below that the broiler-feed ratio (the magenta-coloured line) was 2.9 in July, a record low.

The low ratio is symptomatic of the conditions that led Pilgrim's Pride to report large losses and analysts to downgrade the outlook for Sanderson Farms' profits last week.

The red ink continues to flow but the sector has shown signs of responding over the past two months.

Since the first of May, the number of eggs set in incubators has been 3.5 per cent lower than last year.

Since the first of June, broiler chick placements have been 3.4 per cent lower than last year.

Those numbers obviously fit together pretty well and have led to year-on-year slaughter reductions of 2.1 per cent for the weeks ending 16 and 23 July, the last week for which we have data.

We expect those slaughter reductions to get a bit larger and get close to matching the lagged reductions in sets and placements.

But broiler production is not likely to fall by that much due to significantly higher average slaughter weights.

The average has dropped since peaking in May at nearly 5.9 pounds but remains high and increased sharply to nearly 5.8 pounds the week of 23 July.

The interesting fact about the average weight of broilers, of course, is that there may not actually be a bird in the US that is slaughtered at the average weight. The US broiler sector is actually two sectors: small birds intended for whole bird or bone-in parts primarily used in foodservice and large bird (as large as 8 pounds) intended for boning into raw materials for the myriad processed chicken products now sold through all channels.

So, it matters where the cutbacks occur in the chicken sector and we have little data to help us determine that before slaughter weight data are available.

Suffice it to say, though, that prices continue to tell us that breast meat supplies are AMPLE.

Northeast skinless/boneless chicken breasts sold last week for $116.95/cwt, down 1.4 per cent from the previous week and down 27.4 per cent from one year ago!

That price is 16.5 per cent lower than the average of the past five years (which has been pretty bad for the breast meat market!) and is the lowest breast meat price since February.

If breast prices took their normal seasonal path from here through year-end, they would drop below $1.00/lb. in November.

That hasn't happened since late 2008 and we don't expect it given the ongoing reductions but even that possibility underscores tough times for chicken companies.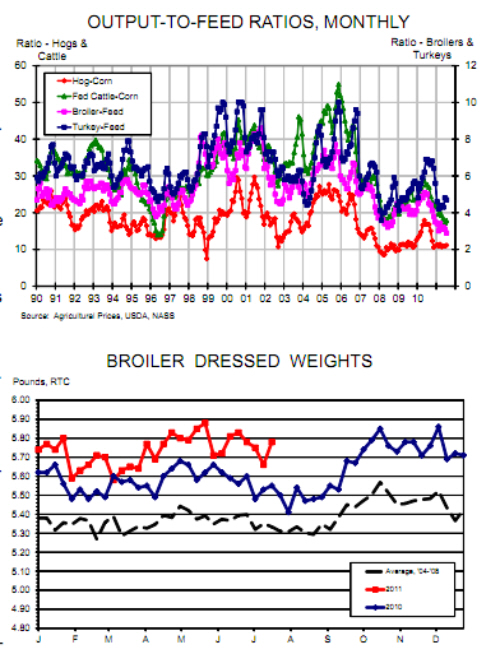 Further Reading