International Egg and Poultry Review: World
GLOBAL - This is a weekly report by the USDA's Agricultural Marketing Service (AMS), looking at international developments concerning the poultry industry. This week's review looks at the world poultry outlook.
Production
Poultry meat production in 2011 is forecast to increase two per cent globally to 100 million metric tons (MT), which is half of last year's rate of increase. However the rate of increase for poultry meat production worldwide is much faster than that of other competing proteins. The reduced growth rate in production is attributed to high feed costs and a resurgence in disease. Those most affected by high feed costs are Brazil, China, the EU and the US, which account for two-thirds of the world's poultry meat production.

Slight gains in EU poultry meat production are expected in 2011 due to higher input costs and the recent implementation of new, more stringent animal welfare rules (EU Animal Welfare Action Plan 2006-2010 adopted January 2006 ensuring the basic 'Five Freedoms' such as a ban on the use of battery cages for hens for both domestic and imported meat production; adoption of the follow-up plan 2011-2015 is expected December 2011). Brazilian and US production growth is supported by strong consumer demand as a result of poultry's price competitiveness.

Russia is forecast to see double-digit increases in 2011 production due to industry investments (about US$2 billion in 2010), policies enhancing meat self-sufficiency, import barriers and feed subsidies.

China's poultry meat production is expected to increase three per cent, which is lower than the seven per cent increase in 2010 due to higher input costs. The production expansion is attributed to increased breeding stock availability, poultry meat's price-competitiveness and import restrictions (anti-dumping; AD) and countervailing duties (CVD) on US poultry in 2010.

Asia's overall poultry meat production is predicted to be about half that of 2010 in 2011 with a rate of growth at two per cent. The resurgence of avian influenza (H5N1) since January 2011 has significantly hampered production in Bangladesh, Cambodia, Egypt, Hong Kong, India, Indonesia, Japan, the Republic of Korea, Mongolia, Myanmar and Viet Nam. Japan also suffered a 9.0 earthquake with subsequent tsunami, as well as a nuclear scare in March 2011 affecting about 17 per cent of its domestic production. In contrast, production gains are anticipated for India, Turkey, the Islamic Republic of Iran, Iraq, Kazakhstan, Nepal and Turkey, where the number of poultry farms have doubled since 2010.
Imports
Exports of poultry meat are projected to increase only 1.6 per cent worldwide in 2011 to 11.7 million MT versus the four per cent increase in 2010.

With the expiry of the 10-year-old anti-dumping tariffs South Africa has against US poultry, imports are expected to increase and possibly offset reduced exports to other significant markets.

EU poultry imports are projected to be lower due to recent confusion over the EU-27 licensing system made effective in 2010 and the varying definition of the use of frozen poultry (European Commission Regulation No. 1047/2009, effective May 2010).

In light of Russia's TRQ reductions to 350,000MT, poultry imports have been forecast lower for the fourth consecutive year. Until recently, Russia had been the world's largest poultry importer.

Poultry meat imports to Asia and the Middle East are forecast higher. Imports to Japan are expected to surpass the one million-MT mark for the first time in order to counteract reduced domestic production and placate shifting consumer preferences from fish to poultry. Increased shipments to the Republic of Korea are supported by a 50,000MT tariff-free quota effective 12 May 2011 and lasting until 31 December 2011, as well as strong consumer demand. In contrast, China is expected to import less poultry in 2011, due to the anti-dumping and countervailing duties in place against US poultry, China's primary supplier.
Exports
The US will likely lose its lead position as being the world's largest poultry exporter, due to tighter domestic supplies and ongoing trade restrictions with China and Russia.

Brazil is expected to lead the world in poultry exports in 2011 with exports exceeding four million MT or approximately one-third of the world's total poultry exports.

In Asia, larger shipments of Thailand's cooked poultry meat to the EU and Japan are expected in 2011. Chinese poultry exports are also expected to continue rising, especially to Asian markets, as the country continues to invest into its poultry operations.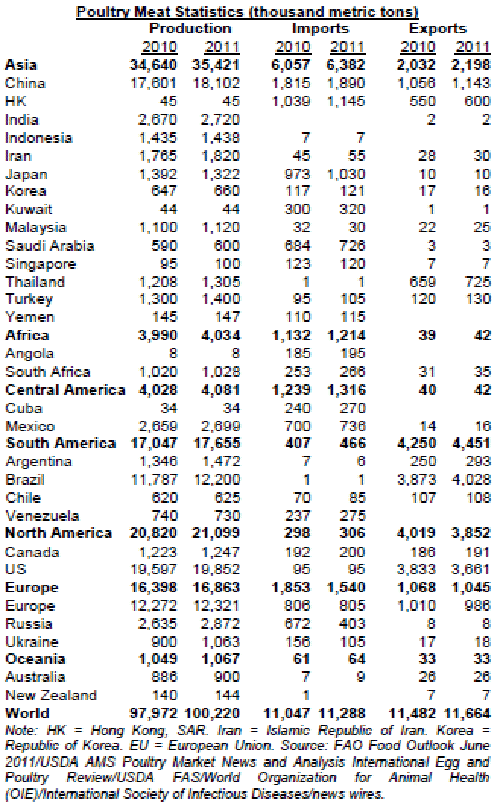 Further Reading