CME: July An Excellent Month For Meat Exports
US - US beef, pork and even broilers enjoyed another terrific month of exports in July, writes Steve Meyer and Len Steiner.
Monthly totals for all three species by major market are shown below.

Some highlights of the July numbers include:
Total beef exports amounted to 272.1 million pounds, carcase weight equivalent, in July, 33.3 per cent higher than one year earlier. Canada was, for the first time on record, the largest buyer of US beef in July, taking 63.94 million pounds, 79 per cent more than one year ago. Japan remained our second largest beef market, growing 29 per cent from one year ago. Shipments to Mexico were down 11 per cent from last year dropping it to third in the export market rankings.

Beef exports to Russia continue to grow at a rapid clip. July's 20.8 million pounds was five times the level of last July.

YTD beef exports are 27 per cent higher than in 2010. Every major market except Mexico and Taiwan is up for the year with shipments to Russia growing the most at +56 per cent. Korea, Hong Kong, Russia and Japan have also seen excellent growth in 2011.

Lower beef imports continue to reduce available supplies in the US, especially in the grinding complex. July imports of 193.82 million pounds carcass equivalent were 17 per cent lower than last year. YTD beef imports are down 16.4 per cent from 2010.

Pork exports continue their climb to an almost-certain new annual record this year. July shipments of 386.2 million pounds carcase equivalent were 17.9 per cent larger than one year ago and drove YTD exports to 2.837 billion pounds, up 15.6 per cent from 2010.

Japan is still the largest US customer and, YTD, has taken 9.8 per cent more product. Mexico remains the second largest destination of muscle cuts and largest destination for by-products. Pork muscle cuts to Mexico are about even with last year. China/Hong Kong moved to third in July, taking 83 per cent more product that they did last year and pushing their YTD total to 269.6 millin pounds, up 50.7 per cent from 2010.

Chicken exports improved nicely in July, growing 28 per cent from June and 29 per cent from July 2010. Even that very good month, though, could just barely push YTD chicken exports back to the positive side of the ledger for 2011 at +2.6 per cent.

July chicken shipments grew to every major destination except the Baltic countries and former Soviet states. Russia led the way in percentage terms at +6893 per cent from last year. "Other" chicken markets include Taiwan, Georgia, Viet Nam, UAE, and Phillipines.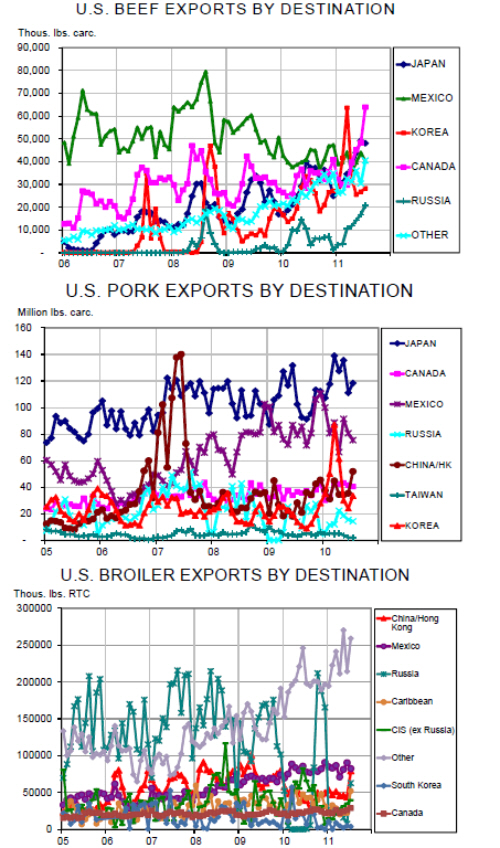 Further Reading