Expertise on Cobb 500 Shared in Chaiyi City
TAIWAN - National Chaiyi University in Chaiyi City, Southern Taiwan, was the location for a seminar organized by Cobb franchise distributor Taiwan Chunky GP Farm Co, with presentations to over 350 people on different topics of broiler management.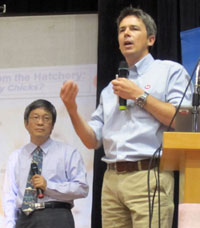 Andrew Bourne speaking with Professor Chiou-Lin Chen from National Chaiyi University Department of Veterinary Medicine
Andrew Bourne, broiler specialist in the Cobb world technical support team, and Dr Orlando Fernandez, Cobb technical service in Asia, covered a wide range of subjects including the principles of brooding chicks and aspects of ventilation management with particular focus on minimum and hot weather tunnel ventilation.

Among the audience were 150 broiler farmers, as well as representatives from breeding, feed milling, veterinary and poultry equipment companies.