Aviagen's European Technical Team Breeds Success
EUROPE - Aviagen's European Technical Team recently held its twice-annual meeting to share information from across 38 countries.
The team, which is constantly increasing to reflect Aviagen's growing European network, supports more than 50 million parent stock birds and provides a wealth of practical knowledge on a wide variety of topics. With so many different countries served, Technical Managers discuss and share performance data from a variety of environmental and management conditions which gives a great picture of the true performance potential of Aviagen birds.

Utilising feedback from customers as well as Aviagen's own extensive research and development work, the three-day meeting, chaired by Alan Thomson, Regional Technical and Commercial Manager, Western Europe and UK, focused on best practice and sharing knowledge and included presentations on feed processing and a research and development update. The team also took part in a research and development workshop.

Mr Thomson said: "These meetings are a vital part of our on-going commitment to providing the best technical service and support to our customers. However, it is important to note that we can't do this without the support of our customers who help shape the future of our business so a huge thank-you to everyone who has provided feedback and information over the past 12 months.

"We recognise that customer engagement is a real cornerstone of what we do. The team spends around 4,500 days with customers each year and we speak no less than 16 different languages between us. Meetings such as this are a vital part of our ongoing strategy to share information, update knowledge and provide feed-back to ensure that all team members are best equipped to support customers," added Mr Thomson.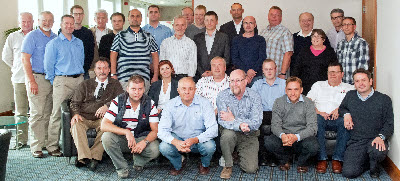 Aviagen's European Technical Team