CME: Retail Meat Prices Continue to Climb
US - Retail meat prices continued to climb in September with Choice beef, pork and turkey setting new records, write Steve Meyer and Len Steiner.
The second chart below shows the monthly average retail prices of Choice beef, All-Fresh beef (which includes Select grade and store-grade products), pork, chicken and turkey that are based on data collected by the Bureau of Labor Statistics and published by USDA's Economic Research Service.

The new record Choice beef price is $4.914 per pound. It surpasses the record of $4.872 per pound set last month.

The new record pork price is $3.561 per pound. It also broke a one-month old record of $3.512 per pound.

Turkey sold for a record $1.676 per pound last month, a price that eclipsed the record of $1.641 per pound, also set just last month.

The price that the entire meat/poultry complex is watching – the composite broiler price – declined last month by two cents per pound to $1.767.

It remains well below the record of $1.857 set back in May of 2009. Monthly broiler production data will not be released until Tuesday but total production for the five weeks that ended on 2 October was down three per cent from one year ago – and still resulted in a September retail broiler price one per cent lower than one year ago.

Broiler producers are doing what must be done when prices are below cost levels – cutting output. But domestic broiler demand is soft enough that they are getting very little price traction.

The turkey price relative to chicken price is at a record high. Beef and pork prices relative to the chicken price were record high in May and are still within three per cent of that record level.

It is pretty remarkable that demands for these other species have been strong in the face of relatively low chicken prices. Those low chicken prices, combined with high feed prices, claimed another victim today when Cagle's, an Atlanta-based chicken company, filed for Chapter 11 bankruptcy.

Cagle's will work with its creditors to re-structure its debt "with minimal disruption to our operations." Not surprising given the recent judgement against Pilgrim's Pride, Cagle's did not mention closing any units.

Cagle's is the third poultry company to announce that it is taking the bankruptcy route in one form or another. Allen Family Foods of Delaware filed for Chapter 11 reorganisation earlier this year.

Townsend's Inc. of Delaware file for Chapter 11 and then Chapter seven liquidation.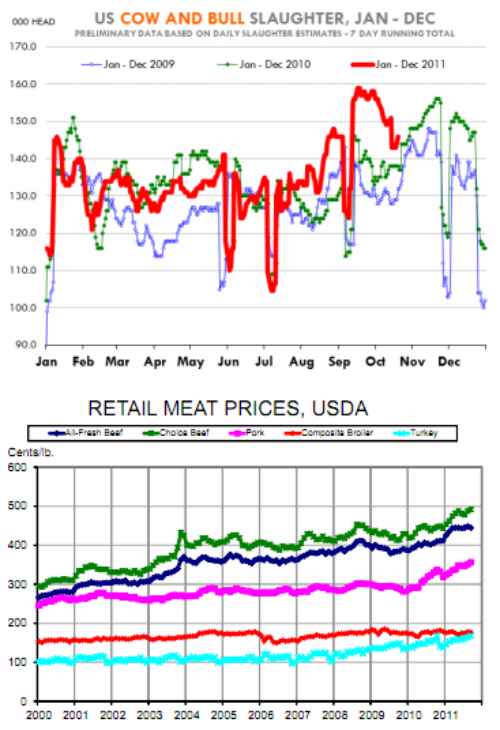 Further Reading