AHVLA Scanning Surveillance Report - July 2011
UK - Significant mortality in game bird chicks and poults caused by rotavirus and protozoal infections was detected.
Commercial Layers and Layer Breeders
Egg peritonitis and colisepticaemia
Thirty free-range layers died in a 24-hour period from a group of 2,360 39-week-old birds. Mortality increased over the previous six days and egg production decreased over the preceding three weeks. The predominant gross postmortem finding was so-called egg peritonitis, and in some birds polyserositis (perihepatitis, pericarditis and air sacculitis) was also identified. Pure growths of E. coli were isolated from visceral organs. Investigation of possible contributory factors was advised.
Marek's disease
Penrith diagnosed two cases of Marek's disease. In one case, three of 30 birds in a recently established flock of free-range hens had died. In a second case, unusual structures associated with the oviduct of one bird were found at post-mortem examination. In both cases, histopathological examination revealed lymphomas in tissues including the liver, kidney, spleen, oviduct and ovary.
Broilers and Broiler Breeders
Staphylococcal tenosynovitis
Staphylococcal tenosynovitis was diagnosed following post-mortem investigations of six broiler breeders aged 10 weeks from two houses totalling 28,600 birds. Clinically affected birds were lame with swollen hocks.

Staphylococcus aureus was isolated from peri-articular connective tissues confirming the diagnosis.
Baby chick nephropathy
Increasing mortality in broiler chicks aged five days was investigated. At post-mortem examination, there was widespread urate deposition, particularly over the pericardial sac. The condition was suggestive of chick nephropathy. Possible causes include dehydration during the first few days of life, possibly due to problems with egg storage or humidity in the hatchery.
Broiler ascites and sudden death syndrome
Mortality of at least 30 birds per day was investigated in two separate commercial broiler flocks aged 30 days and 40 days, respectively. In the younger flock of 36,000 broilers, birds had been found dead on their backs. At necropsy, dark purple congested lungs and excess fluid in the pericardial sac were seen. In the older flock, consistent good performance was reported until an increase in mortality towards the end of the crop which was unresponsive to antibiotic medication. Six carcasses were examined post-mortem and ascites was present in two birds. The remaining birds had marked bilateral pulmonary congestion and oedema, accumulation of bloody fluid and an excess of clear fluid in the pericardial sacs. Findings were suggestive of sudden death syndrome (flip-over syndrome) in both flocks.
Ducks and Geese
Duck Virus Enteritis (DVE)
Penrith and Winchester diagnosed DVE in Muscovy ducks. Sudden death was reported and characteristic necrotic and/or diphtheritic lesions of the oesophagus and intestine were seen post-mortem. In both cases, mixed populations of domestic and feral waterfowl were resident but only the Muscovy ducks were affected. This species is particularly susceptible to DVE infection. The birds had access to ponds and in one case this was also populated by wild Mallard – likely carriers of the virus.
Gizzard worms
Large numbers of gizzard worms (Amidostomum spp.) were identified as the cause of weight loss, weakness and death of a 10-week-old gosling submitted to Aberystwyth. The bird was one of a group of 40, in which nine deaths occurred over two weeks. Anthelmintic treatment was recommended combined with regular moving of the rearing accommodation to prevent environmental build up of endoparasites.
Backyard Flocks
Infectious Bronchitis virus infection
Five of a group of 20 eight-week-old birds in a flock of approximately 70 fancy fowl had recently died. They were well grown and died relatively quickly. No vaccines or treatment had been used. At post-mortem examination, there was a striking severe renal pathology; both kidneys were grossly enlarged and pale with numerous tophi evident and copious urate deposits. PCR testing demonstrated the involvement of a QX-like strain of IBV.
Fowl Pox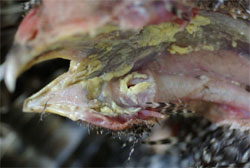 Figure 1. Fowl pox
Winchester diagnosed fowl pox in a one-year-old chicken from a backyard flock where five of 15 birds had recently died. Respiratory-like signs had also been reported. Post-mortem examination showed extensive diphtheritic lesions and caseous material in the oropharynx of the bird, suggestive of the diphtheritic form of fowl pox. This diagnosis was confirmed by histopathological examination with the demonstration of viral inclusions in epithelial cells.
Coccidiosis
Winchester investigated increasing mortality with blood-tinged droppings in a fancy fowl breeding unit. Post-mortem examination revealed haemorrhagic/necrotic caecal content. Large numbers of Eimeria oocysts, gametocytes and schizonts were identified microscopically consistent in size and location with those of E. tenella confirming the diagnosis of caecal coccidiosis. Shrewsbury diagnosed this condition in a small free-range flock where bloody faeces had been observed.
Gamebirds
Rotavirus
With the game bird rearing season well underway, numerous submissions of pheasant and red-legged partridge chicks and young poults were received for investigation, principally relating to increased mortality and/or enteric disorders. Suspected rotavirus infection in several separate batches of six- to 12-day-old pheasants was confirmed by PAGE testing of caeca which were distended with yellow foamy liquid content. In one case investigated by Shrewsbury, 1,000 deaths had occurred in a group of 7,000 six-day-old imported red-legged partridges. Starve-out/failure to feed and rotavirus infection were identified.
Protozoal infections
Motile protozoa infections, principally Spironucleus (Hexamita) and also intestinal trichomoniasis were commonly diagnosed affecting pheasant poults aged six to 10 weeks. Typically, poults were in poor condition, dehydrated with variable degrees of diarrhoea. Caecal distension with fluid and/or bubbly yellow/green contents, and concurrent moderate to severe enteritis were consistent findings. Winchester also unusually diagnosed spironucleosis in pheasant poults aged ten days. In a small number of cases concurrent gapeworm (Syngamus trachea) and intestinal nematode burdens were also identified. In another case Shrewsbury investigated diarrhoea and wasting affecting approximately five per cent of a group of 8,500 pheasants aged five ot six weeks old. Birds were in good condition at necropsy and 184,500 coccidial oocysts per gram were detected in faeces. These were identified as mostly (97 per cent) Eimeria colchici, a recognised pathogenic species in pheasants.
Salmonellosis
Salmonella Typhimurium PT8 infection was confirmed in 18-day-old red-legged partridges from a flcok where 140 had died out of a group of 5,000. The birds were reported to have caseous material in their caeca and concurrent coccidiosis. A risk assessment was carried out and appropriate advice regarding the zoonotic risks of salmonella infection was given.
Coronavirus nephritis
Coronavirus was identified as the cause of renal pathology in an ongoing mortality problem in 11-week-old pheasant poults. An IBV-like coronavirus was detected by PCR testing on the kidney tissue. Post-mortem examination showed the presence of enlarged pale kidneys with urate deposits in the ureters. Coronavirus nephritis is a recognised cause of death in adult pheasants but is very unusual in young poults as a cause of disease.
Further Reading
Further Reading
| | | |
| --- | --- | --- |
| | - | Find out more information on the diseases mentioned in this article by clicking here. |