Award for Newcomer to Goose Production
UK - Buckinghamshire goose producer, David Bruce, is this year's recipient of the John Adlard Memorial Award for newcomers to the field.
Mr Bruce began producing geese this year after his customers began asking for geese as well as turkeys for Christmas from Collings Hanger Farm, Prestwood, near Great Missenden.

The award is made annual to commemorate John Adlard, founder of the modern goose revival and chairman of British Goose Producers for 22 years. It was presented to Mr Bruce by Eddie Hegarty, BGP chairman, during its annual goose walk and meeting at Herons Farm, Coggeshall, Essex.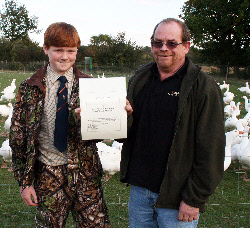 Eddie Hegarty's son Joseph pictured with David Bruce, winner of the 2011 John Adlard Memorial Award
"Through his association with premium turkeys, David Bruce is aware of the high standards customers are expecting from geese and we're delighted to help get him started," said Mr Hegarty.

The award, which includes a donation of goslings and specialist support through the first year, is made annually to encourage new goose producers.

Mr Bruce, who is also involved in a milk delivery business based at the farm, has been producing KellyBronze turkeys for the last eight years and sells all 300 in the farm shop. or many years he reared game birds and ducks – and so has found it an easy transition into geese.

The goose walk, attended by some 60 BGP members from across the country and Ireland, was hosted by Howard and Jane Blackwell who rear almost 2000 geese for Christmas along with turkeys and large table chickens. Many are sold through farm shop which on the eve of the event gained the top award for Essex from shops from Essex Life magazine.