Big Dutchman Considered 'Outright Image Leader'
GERMANY - Big Dutchman has an outstanding reputation amongst agriculturalists in Germany.
This is reflected by the latest image barometer of the German Agricultural Society (DLG). The renowned survey has recently been conducted for the 16th time nationwide. Thus the world's greatest animal housing supplier for poultry and pig production is the first company in the trade to achieve the ranking of "outright image leader". The family-owned company from Vechta-Calveslage therefore finds itself on a par with traditional and renowned brands such as John Deere, Fendt, Claas, Bayer, BASF and the Volksbank establishments.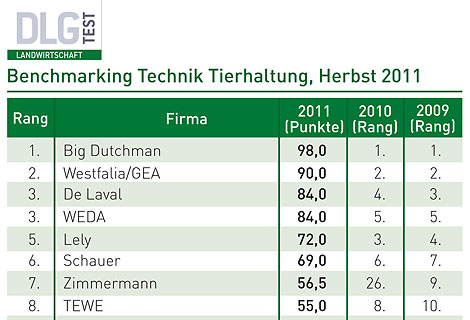 Agriculturalists award top marks: for the fifth time, Big Dutchman defends the top ranking position in the "Livestock Management Technology" category.
For the fifth time in succession Big Dutchman was awarded first place in the category of Livestock Management Technology. For the first time the housing supplier achieved the impressive score of 98 out of 100 points which was by far the best result of all companies in this sector.

"This result is a reflection of the huge trust placed in us and, above all, an incentive to continue passionately with our work," commented Big Dutchman board member Bernd Meerpohl concerning publication of the results of the annual trade survey in the DLG-Test magazine.

The image barometer is compiled on the basis of detailed interviews with approximately 300 leading German agriculturalists. They were asked which company they assess as the best and which they evaluate as the most innovative. In addition the interviewer wanted to know which company has carried out the best and most creative promotion and which one maintains the best internet presence. In response to all four questions Big Dutchman achieved top position in the category of Livestock Management Technology.