CME: Lowest Monthly Flock Figure Since 1996
US - Anyone questioning the seriousness of the situation facing US broiler producers need look no further than the broiler hatcher flock data in USDA's November Chickens and Eggs report released last Tuesday, write Steve Meyer and Len Steiner.
The 1 November flock of 50.170 million birds was the lowest monthly figure since December 1996 when the US broiler hatchery flock numbered 50.102 million birds.

And, given the normal tendency for the flock to bottom out on 1 December, we expect next month's figure to be even lower, perhaps challenging the November 1996 seasonal low of 48.412 million birds.

The magnitude of this liquidation almost perfectly matches the 2008 reduction that saw the flock fall by 5.367 million birds, going from 58.240 million bird in May to 52.873 million birds in December.

That reduction, of course, was driven by some large reductions on the part of Pilgrim's Pride as it dealt with bankruptcy proceedings.

This reduction currently stands at 5.121 million birds with, as we pointed out, very likely one more month to go. Both of those far exceed the normal May to December seasonal decline of about 2.6 million birds from the mid-'90s through 2007.

The implication of this reduction is that egg sets and chick placements are not being reduced by just destroying eggs or chicks and these reductions in supplies will be longer-lasting than just an "output adjustment."

Broiler companies can still respond quickly but a substantially smaller breeding flock makes the response will take MUCH, MUCH longer.

And the reductions are showing up in output. Broiler production for the week of 20 November (note that broiler data in our Production and Price Summary table is lagged one week from the date on the table) was 10.8 per cent lower than one year ago on 10.2 per cent lower slaughter and a reduction in average weights of 0.7 per cent.

We may have missed one but we believe that is the largest year-on-year reduction in broiler output in a non-holiday week in our data set that goes back to 1988.

Egg sets and chick placements continued their marked declines that week as well, falling 6.1 per cent and 7.5 per cent, respectively, short of 2010 levels.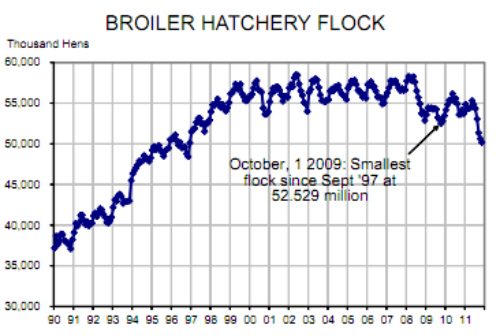 Further Reading