Marketing Manager Races to Join AB Vista
UK - AB Vista has recruited a new Marketing Manager to help build its global profile.
With experience of marketing heavy duty lubricants for Castrol, plus several marathons under her belt, Debbie Loughran is sure to help her new employer go the distance.

Based at AB Vista's offices in Marlborough, Wiltshire, Ms Loughran will be responsible for coordinating launch activities across AB Vista's growing portfolio of products. Her first-class degree in Chemistry with Forensic Analysis will certainly help with her technical understanding of the animal feed ingredients industry; she also has a CIM Diploma in Marketing.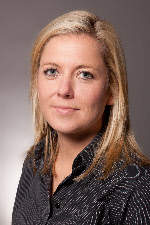 Debbie Loughran
Before becoming Castrol's Heavy Duty and Specialities Marketing Manager, she worked in brand management roles for the veterinary division of pharmaceutical company, Boehringer Ingelheim. There, she helped the team win a number of veterinary marketing awards.

Charles Sheppy, Supply Chain and Business Development Director for AB Vista, said: "Debbie Loughran has not only the marketing experience we were looking for but also a strong track record of working with both highly technical and animal-focused products. I'm sure she'll make a valuable addition to AB Vista as we continue to launch exciting new products around the world."