Top Grandparent Award Goes to Cobb South Africa
GERMANY - More than 60 delegates from Cobb franchise distributors in Europe, the Middle East and Africa took part in a week-long technical seminar organised by Cobb Europe at Berlin, Germany.
Keynote speaker for the opening evening was Nan-Dirk Mulder of Rabobank International who outlined prospects for the poultry industry, set to benefit from increasing demand by the growing global population. He spoke of the potential of Argentina, now the fastest growing poultry industry in the world and becoming 'a serious alternative' to Brazil for importers.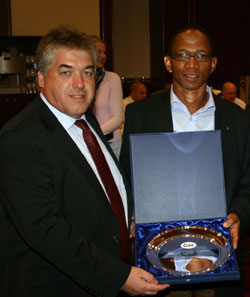 Mark Foote presents the best overall performance award to Bonga Mavume, Cobb South Africa managing director
The evening was also the occasion for presenting the Cobb grandparent awards with the best overall performance over the past two years going to Cobb South Africa and Cobb Germany the runner-up.

The seminar provided the opportunity to compare performance data across the integrated chain and to discuss technical aspects of production.

One of the Cobb speakers from the USA, Dr John Hardiman, chief scientific officer, spoke about the company's investment in research and development topping $100 million in the past four years. He said the pace of investment was accelerating with the new complex under construction in Tennessee and projects to expand research and grandparent production facilities in the UK and the Netherlands

Dr Hardiman spoke equally about the emphasis placed on livability, robust health and welfare traits assisted by investing in biotechnology, advances in genomics and joint research projects with universities and other organisations.

He said that Cobb had been the first to use ultra-sound technology in helping to make selections — back in 1978 — and was now looking to exciting new technology to increase the accuracy of breeding and make faster progress in particular traits.