BPC Awards for Long-Term Dedication, Young Scientists
UK - At the British Poultry Council (BPC) annual awards in London yesterday, four of the industry's long-standing supporters were honoured and scholarships were awarded to two outstanding young researchers, writes ThePoultrySite senior editor, Jackie Linden.
In a ceremony at the House of Commons yesterday, 6 December, BPC chairman, John Reed, welcomed guests to his organisation's awards to four industry leaders for their respective significant long-term contributions to the poultry meat industry in the country.

The awards were presented by Anne MacIntosh, MP, who chairs the Environment, Food and Rural Affairs Select Committee.

Receiving the Poultry Industry Special Merit Award was Professor Peter Biggs, OBE, for his exceptional and greatly valued contribution to the industry over poultry health issues, most recently as chairman of the Technical Advisory Committee of Assured British Poultry.

There were three recipients of the Poultry Industry Distinguished Service Award this year: John Cessford, Steve MacDonald and Ted Wright.

John Cessford, Marketing Manager of feed company, BOCM Pauls, was recognised for his dedication to promoting the interests of the UK poultry industry, for his contribution to the success of the Egg and Poultry Industry Conference (EPIC) and his dedication to the BPC Growers Committee.

Steve MacDonald's long commitment to the industry in the incubation and hatchery field and his communication abilities were highlighted in the citation for his award. He has served on the BPC Hatcheries Committee, including a period as chairman.

Former BPC chairman and current chairman of the Red Tractor Assurance for Farms – Poultry Scheme, Ted Wright, was given his award in recognition for his dedication to the poultry industry, which, he said, started in 1965.

Poultry Industry Research Scholarships were awarded to Jessica Hopkins of Scottish Agricultural College for her PhD project to develop a reliable tool for the culling of individual birds, which improves welfare, and to Angel Ramirez of Harper Adams University College for his final year PhD study into greenhouse gas Life Cycle Analysis for the poultry processing sector.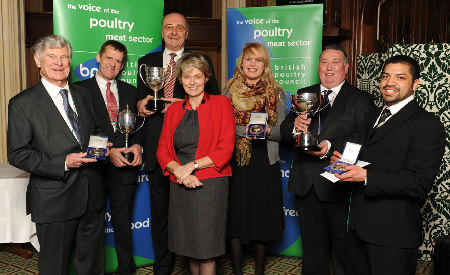 BPC Awards: left to right: Professor Biggs, John Cessford, Ted Wright, Anne McIntosh MP, Jessica Hopkins, Steve MacDonald and Angel Ramirez