International Egg and Poultry Review: Argentina
ARGENTINA - Poultry production in Argentina is focused in Entre Rios (46.6 per cent), Buenos Aires (41.5 per cent), Cordoba (4.4 per cent), and Rio Negro (4.3 per cent) provinces, according to the USDA's Agricultural Marketing Service (AMS).
Due to heavy investments in additional grow out houses, grain and cold storage facilities, and cut-up/processing rooms; genetic improvements; good quality feed; sanitary controls; and improved management conditions industry has expanded. Presently, Argentina has 52 federally inspected plants, accounting for 80 per cent of the industry with the remaining plants belonging to smaller, provincially inspected companies. Continued investment is expected in the future. Broiler meat production in 2012 is expected to reach a record 1.85 million metric tons (MMT), up 75,000 MT.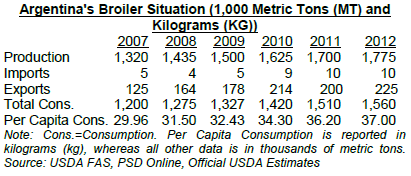 Consumers prefer beef; however poultry meat consumption is on the rise. In 2010, Argentines consumed 56 kg of beef, 36 kg poultry, and 12 kg pork. Per capita poultry consumption in 2012 is projected to be 38 kg with total poultry consumption reaching a record 1.565 MMT. About 35 per cent of the poultry meat consumed is in the form of parts versus whole birds and this trend is on the rise. Poultry consumption is increasing due to the limited supplies of beef; the price advantage of poultry to higher priced beef; the increasing consumer preference for nutritious, low fat meat; poultry's shift from being viewed as a substitute protein to an alternative; and government policies guaranteeing meat at lower prices through a rebate system subsidizing it processors input costs.

In 2012, exports are predicted to hit a record 250,000 MT (+20 per cent). This is supported by Argentina's excellent sanitary status; low cost, highly integrated, consolidated, modern infrastructure; good climate and soil; competitive and skilled labor; access to competitively priced feed; favorable government policies promoting domestic grain usage and the export of poultry meat; and the advantage gained from the devaluation of its Peso in 2001. It is viewed to be a key player in meeting future global demand. Argentina exports to about 70 countries. Its major markets are China and Hong Kong (paws), Chile (breasts, leg quarters), South Africa (leg quarters, mechanically deboned meat (MDM)), and Venezuela. Exports are projected to keep growing, especially into the EU, Middle East, and Asia.

Note: Production volumes in PSD exclude chicken paws shipped to China and Hong Kong. Source: USDA FAS/News Wires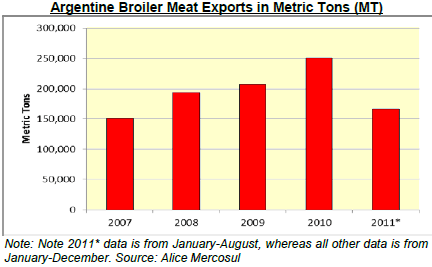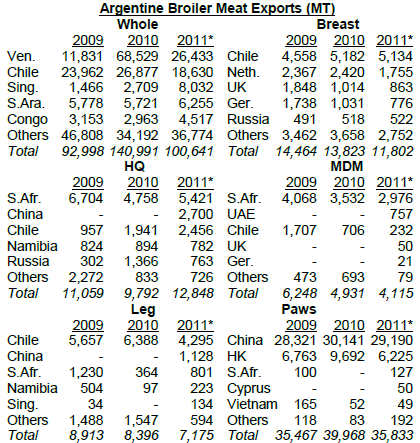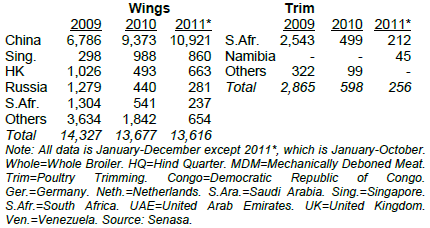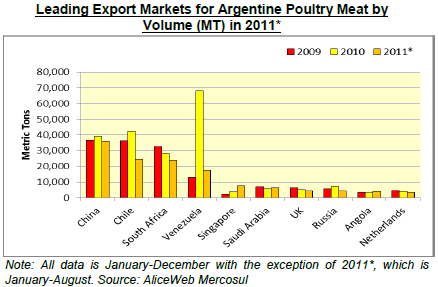 Further Reading
Further Reading
| | | |
| --- | --- | --- |
| | - | You can view the full report from USDA Foreign Agricultural Service by clicking here. |