Trainee Says Foreign Internship Was Worthwhile
NETHERLANDS - "Every trainee who gets offered such a chance should take it!" Carolin Schlömer was absolutely thrilled when she recently returned to the Netherlands from Malaysia where she completed a foreign internship.
The young professional is currently enrolled in a dual-certification programme alternating between classroom study at a technical college and on-the-job training at the Big Dutchman headquarters in Calveslage, Germany.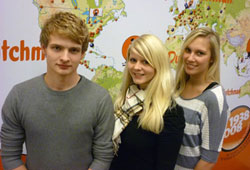 Three Big Dutchman globetrotters returned from their travels: Felix Ruholl, Britta Deux and Carolin Schlömer are very enthusiastic about their foreign exchange internships.
Ms Schlömer had applied for one of the three foreign internships the livestock housing equipment supplier offered their trainees this year. And her application was successful: for six weeks, she moved her workplace from Germany to Shah Alam, close to Kuala Lumpur, where the Malaysian daughter company of the international market leader has its headquarters.

Very enthusiastic about their stay abroad are also the two other foreign trainees Britta Deux and Felix Ruholl. Trainee Mr Ruholl also went to Malaysia, while Britta Deux completed her internship on the other side of the globe: in Holland, Michigan, USA.
Working in "Tulip City"
In "Tulip City", as Holland, population of 35,000, is also known, is the home of the US-American Big Dutchman daughter company Big Dutchman Inc (BD Inc.). For the second time already, BD Inc. sponsored one of the successful participants of the coveted foreign internships. And, according to Britta Deux, they did it very well: the trainee from Germany had the chance to look into all departments, visited a layer farm equipped with BD products and accompanied her American colleagues on visits to suppliers.

The prospective business school graduate sees her future in the field of personnel development and was glad to be able to get a whiff of the "Human Resources" department at BD Inc. as well. "American application papers are completely anonymous, don't contain a picture and with a maximum of two pages, are much shorter than German application papers. And job interviews are also much quicker," summarises Ms Deux some of the differences she encountered.
Versatile jobs
Felix Ruholl also was able to combine his vocational interest with the stay abroad: Already on day two the future mechanical engineer started setting up an engine test station for gear motors. In close cooperation with the Malaysian colleagues he organised the required testing material, clarified details such as delivery dates and delivery sites and established the power supply for the test. A nice side effect of the project was that Felix gained immediate insight into all departments.

No two foreign internships are alike: Carolin Schlömer on the other hand worked in the internal sales department and supported the Malaysian colleagues actively with their daily business. "My main task was to help with the realisation of a large project in Beijing," summarises the young woman who combines her training at Big Dutchman with a college degree in economics about her interesting and versatile job abroad.
A great experience
As different as the job profiles of the trainees were, they still had several common denominators: in terms of collegiality, assistance and job diversity, the three globetrotters give their hosts excellent grades. And all three were also very enthusiastic about experiencing a different culture: "Looking beyond one's own four walls is always worth the effort!" was the unanimous conclusion.

Next year, the housing equipment supplier will once again offer several foreign internships. There is a great deal of interest among the trainees. Since there is only a limited number of places available, the trainees have to present the jury with a convincing application which has to include not only an impressive performance both at school and at work but also a letter of motivation. However, this does not put anybody off: the next applicants are already waiting in the wings.