CME: Meat Demand Maintains Annual Increase
US - 2011 ended with a piece of good news as the National Restaurant Association's Restaurant Performance Index (RPI) for November hit a five-month high, indicating a continuing rebound for the foodservice sector. It also showed that US beef, pork and chicken demand are maintaining year-on-year increase as of October, write Steve Meyer and Len Steiner.
These indexes, which we compute monthly, appear in the chart below. All observations except the last represent calendar year changes from the year before. The final observation in each series represents the 12 month period from November 2010 to October 2011, the last month for which data are available.

The indexes represent overall domestic consumer level demand for each protein since they are based on per capita consumption and real retail prices. "What about foodservice product?" is a usual, and legitimate, question when we mention that retail prices are used in the index calculations.

The retail price is used for two reasons. First, there are no data for the price of foodservice protein components that, to our knowledge, are publicly available.

Second, the retail price should be a shadow value of product sold through foodservice in that any increase in foodservice volume will reduce the volume available through retail outlets and thus push retail prices higher.

If readers see the latter as rationalisation, we will have to plead guilty. The fact remains that no other data are available.

The trailing-twelve-month indexes for bot pork and chicken declined when October data were added as the October year-onyear index changes for both species were negative.

Chicken demand in October was six per cent lower than in October 2010 while pork demand was down 4.6 per cent, Oct '10 to Oct '11. The October 2011 beef demand index was 0.9 per cent higher than one year earlier.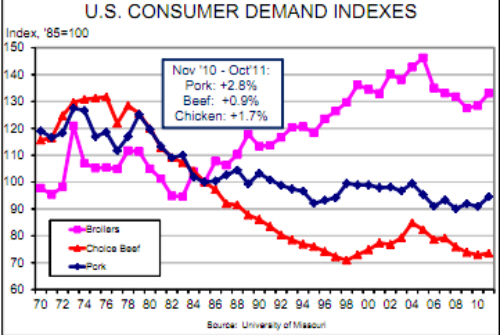 Further Reading