Cryovac Rolls Out New Ovenable Material at IPE 2012
US - Consumer-friendly ovenable rollstock is newest expansion to Oven Ease product line. The launch International Poultry of the product was during the 2012 International Poultry Expo in Atlanta.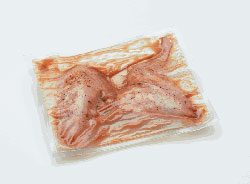 Chicken wings in the new Oven Ease rollstock
Sealed Air's Cryovac brand announces the expansion of its convenience-focused Oven Ease technology with new Oven Ease Rollstock material. The ovenable rollstock delivers a convenient solution for consumers looking to simplify preparation of home cooked meals. Enabling a wider range of products to utilize ovenable solutions, the innovative rollstock allows pre-seasoned or marinated items to be cooked inside the same material in which it is packaged.

The benefits of ovenable material are simplified preparation, faster and unattended cooking and easier cleanup for busy consumers. Featuring exceptional clarity and utilizing the same vacuum packaging properties as the Oven Ease ovenable bag, the ovenable rollstock ensures the product is freezer-ready and accommodates cook-from-raw or reheat applications.

After cooking, Oven Ease Rollstock offers impressive holding time, keeping items hot in the package long after being removed from the oven.

Oven Ease Rollstock runs on most traditional rollstock thermoforming equipment, allowing an easy changeover, thus enabling processors utilizing rollstock the opportunity to enter the ovenable category without incurring the expense of new equipment.

"The bottom line for Oven Ease Rollstock is that it is good for consumers, retailers and processors," said Don Smith, marketing director for Sealed Air's Cryovac ovenable products.

"With no capital investment, processors can offer their retail customers a solution that helps consumers skip a few steps in the cooking process ? giving them back precious time."

Available in sizes of up to 5 lbs, the Oven Ease Rollstock material is ideal for poultry and boneless beef and pork roast cuts. Cooking temperatures can withstand 375 degrees Fahrenheit for a maximum of 4 hours.


IPE News & Information
Visit our full coverage of IPE here where ThePoultrySite team were fully represented.