Food Safety Under Secretary to Speak at Programmes
GEORGIA, US - Dr Elisabeth Hagen, Under Secretary for Food Safety, will speak at two International Poultry Expo programmes on Wednesday, 25 January.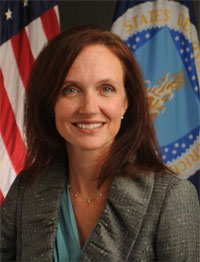 Dr Elisabeth Hagen, Under Secretary for Food Safety
Dr Hagen will give the opening remarks at the Pre-Harvest Food Safety Conference, beginning at 8:30 a.m. on Wednesday morning. At 10:40 a.m., Dr Hagen will speak at the Executive Conference on the Future of the American Poultry Industry, during which she will discuss how the Food Safety and Inspection Service (FSIS) and the poultry industry can continue to jointly work together to further enhance food safety in the future.

As Under Secretary for Food Safety, Dr Hagen oversees the policies and programs of FSIS, USDA's public health regulatory agency that ensures that the nation's commercial meat, poultry, and processed egg products are safe, wholesome, and correctly labeled and packaged. She also chairs the US Codex Steering Committee, which provides guidance to US delegations to the Codex Alimentarius Commission.

Dr Hagen holds an MD from Harvard Medical School and a BS from Saint Joseph's University. She completed specialty medical training at the University of Texas Southwestern and the University of Pennsylvania, and is board certified in infectious diseases.