Giving Poultry Farming a Greener Image
DENMARK - The raising of chicks using surrogate hens can give better animal welfare and use less energy, helping commercial egg producers to achieve a greener image.
In a new research project at Aarhus University chicks will have a new companion in the chicken house in the form of artificial brooders. The experiment will look into whether the use of surrogate hens for raising chickens can improve animal welfare and be made into another green growth initiative.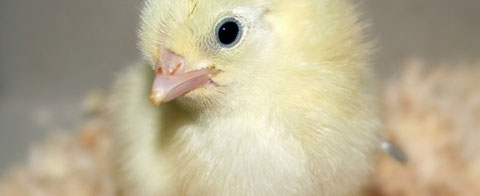 Scientists from Aarhus University will investigate if dark brooders can help save energy costs and improve poultry welfare.
"Our hypothesis is that the surrogate hens reduce the incidence of feather pecking, cannibalism and crowding. If we can verify this hypothesis, we can use them instead of the traditional form of heating in the chicken house to create green growth," says scientist at Aarhus University, Anja Brinch Riber.

She has just received funds to carry out a project where she, together with MHJ Agroteknik A/S and Knowledge Centre for Agriculture, will be developing the artificial brooders and testing them on flocks of chicks in a rearing house. She will subsequently follow the fate of the laying hens at egg producer Hans Rauff Hansen.
Hotplate to replace mother hen
The background for the experiment is that the chicks need extra warmth to survive during the first four weeks of their life. Under natural conditions they get this warmth from underneath their mother. As this is not possible in chicken houses, the producers instead choose to heat the houses, and this uses a lot of energy.

An alternative could be surrogate hens consisting of water-heated hotplates that the chicks can seek the warmth they need underneath. The plates also appear to have a positive effect on welfare problems in the layer houses.

"Hotplates are currently only used by hobby farmers. They are electric and are to a certain extent experimental. They have not yet been tested and developed for use on commercial farms. That is what we intend to do with this project," says Dr Riber.

The surrogate hens will initially be developed and will use hot water for heating so that the existing sources of energy in the chicken houses can be used. They will subsequently be tested in an experimental facility with a view to tailoring the design to the needs of the chicks. They will lastly be used at flock level to test and document their effect for commercial use.
Energy savings
If the surrogate hen works according to plan, the temperature in the broiler houses can be reduced to 20-22°C, which will give considerable savings on the heating bill. In addition to this saving, Anja Brinch Riber also expects that the surrogates will have a positive effect on three of the most problematic areas in poultry farming: feather pecking, cannibalism and crowding.

If the welfare problems are reduced, this will have positive effects for the egg-laying industry:
Better utilisation of feed as a hen with a complete coat of feathers will have a better feed use efficiency and need less feed to maintain her body temperature.
Higher productivity, which means more eggs per flock, as a hen not exposed to feather pecking has a higher egg production. A reduction in the mortality due to less cannibalism and crowding will also mean that there are more egg-laying hens.
A reduction in the use of pesticides as there will be a lower feed consumption.
Reductions in annual nitrogen and phosphorus excretions of, respectively, 94 and 17 tonnes as a result of a lower feed intake.
The effects of the experiments are based on surrogate hens being introduced at 50 per cent of all Danish egg producers. If the expected results are achieved, the saving in heating costs will correspond to a reduction in CO2 emissions of around 500 tonnes per year and in additional profits of 15 million DKK per year in Denmark.

The three-year project has received 2.4 million DKK from the Ministry of Food, Agriculture and Fisheries Green Development and Demonstration Programme (GUDP). It is a joint collaboration between Aarhus University, MHJ Agroteknik A/S, Knowledge Centre for Agriculture | Poultry and commercial egg producer Hans Rauff Hansen.