Good Attendance at Ross/San Hwa Seminar
SOUTH KOREA - Excellent attendance and participation was experienced at the recent Sam Hwa and Ross hosted seminar at Duck San Spa Castle Resorts, located in the central west region of South Korea where Sam Hwa is a long standing Ross distributor.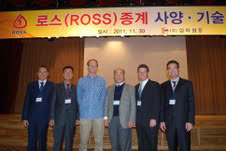 Seminar speakers and hosts, from the left, Guo Jun, Hatchery Specialist, Ross; Lee Sang Bae, Sales Director, Sam Hwa; Bernard Green, Consultant for Ross; Bae Sung Hwang, President, Sam Hwa; Larry Blackstone Technical Service Manager, Ross; Hong Young Ho, Production Director, Sam Hwa.
The objective of the seminar was to present and discuss the best practices for productivity improvement of parent stock for all Ross customers and contribute to the overall efficiency of the Korean broiler industry. Mr Bae, President of Sam Hwa GPS Breeding Agri Inc., said that his company has operated for over 20 years as the Ross distributor and always makes an effort to assist and support their customers by having the best chick quality and consistent supply. He believes that the improvement in productivity through effective farm sanitation and good management are very important to survive in an open market which often has to compete with worldwide producers.

The Korean market has performed well and continued to grow in 2011 in spite of a series of outbreaks of highly pathogenic avian influenza during the first half of the year. Prices hit new highs due to increased consumer demand resulting from the shortage of local pork and fears about fishery products being contaminated by radiation from the nuclear power plant in Japan. Feed price increases during the year did not appear to impact production and a consumer survey by the Korea Rural Economic Institute (KREI) indicated that over 80 per cent of respondents had switched a portion of their pork consumption to another meat, much of it was chicken. The outlook for the market is good with consumption in 2012 expected to grow by 3 per cent, local production continue increasing by a further 5 per cent and imports anticipated to decline about 10 per cent.

The highly successful seminar was organized by the technical service groups of both host companies and was in response to several requests from the growing Ross customer base in South Korea for more in-depth technical support on how to obtain the best parent stock performance. The excellent response to the event was a good indication of the preference for Ross in the Korean market and the desire to make the most of the growth predicted for the market next year.

The afternoon seminar featured presentations from Ross and Aviagen technical specialists. Larry Blackstone, Technical Service Manager for Asia presented Ross parent stock management in peak production period. He was followed by Guo Jun, Hatchery Specialist, Asia on focus on chick quality and a detailed review of minimum ventilation by Bernard Green, Consultant for Aviagen. There was also a presentation on the introduction of spin feeding and Ross performance by Dr Young Ho Hong, production director, Sam Hwa GPS Breeding Agri Inc.

The large number of people who attended the Ross Sam Hwa seminar worked in production for many of the integration companies, some were farmers, and others were from the hatcheries and also worked at feed milling companies in the region. Mr Bae noted that the attendees all appeared interested in the presentations and that there was very serious discussion during question and answer time between speakers and audience.

"We value the relationship with Sam Hwa and the priority they place on providing good technical service to their customers. Without doubt the attention they pay to technical service and chick quality within the Korean market are some of the major reasons for their success and business growth. It is rewarding to work closely with them and assist in a successful seminar like this recent one in Korea," commented Orapan Chansawat, Vice President Ross Asia.