Jim Sumner Receives Lifetime Achievement Award
US - Jim Sumner, president of the USA Poultry & Egg Export Council (USAPEEC) has been named the recipient of the 2012 Poultry Industry Lifetime Achievement Award by the National Poultry & Food Distributors Association (NPFDA).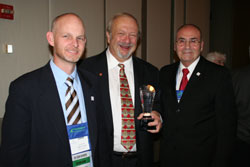 Sumner will receive the prestigious award at the annual NPFDA reception during the organization's 2012 convention in Atlanta, which coincides with the International Poultry Expo. The reception is set for 25 January at 6 pm at the Hyatt Regency, the host hotel for the NPFDA convention.

Mr Sumner has been president of USAPEEC since 1990.

The NPFDA Lifetime Achievement Award has been presented since 1991. Past recipients include Frank Perdue of Perdue Farms, Don Tyson of Tyson Foods, Joe Hatfield and Tom Arrendale of Fieldale Farms, Norman Fries of Claxton Poultry, Doug Cagle of Cagle's Inc., Bo Pilgrim of Pilgrim's Pride, Col. Harland Sanders, founder of Kentucky Fried Chicken; Marvin Johnson of House of Raeford, Doug Carnes of Mar Jac Poultry, Terry Tucker of Maple Leaf Farms, George Watts of the National Chicken Council, Eric Joiner of AJC International, and Tom Rueger of Eastern Poultry Distributors.