ThePoultrySite Launches New iPhone App at IPE
US – At the International Poultry Expo in Atlanta, ThePoultrySite launched its new redesigned web site, as well as its new application for the iPhone, writes Chris Wright, senior editor of ThePoultrySite.
ThePoultrySite booth at IPE generated a great deal of interest and served as the platform to present the new web site redesign as well as the new application for the iPhone. The new site and app were very welcomed by exhibitors and visitors alike.

This was the first year that ThePoultrySite had a booth at IPE, which allowed for important interchanges between the attendees and the website staff. Along with ThePoultrySite, other 5M Publishing sites were featured: ThePoultrySite China, ThePoultrySite Digital magazine, and ElSitioAvicola, the Spanish language poultry industry website.

ThePoultrySite offered its visitors the chance to win a new iPod Touch each of the three days of the show. The winners were selected by random drawing from everyone who registered that day. The winners were: Angel Rodriguez of Bachoco in Mexico, Yanming Han of Nutreco in the Netherlands and Amanda Jordan of Biomin in the US.

(left to right): Amanda Jordan, Biomin, USA with Alex Guy, Head of Tactical Sales for 5M Publishing; Angel Rodriguez, Bachoco, Mexico with Jackie Linden, Senior Editor of ThePoultrySite and Dr Yanming Han, Nutreco, Netherlands
The 2012 edition of IPE attracted over 20,000 attendees from around the globe and nearly 900 exhibiting companies. There was a very positive attitude from the participants at the show.

ThePoultrySite app is available for free at the iPhone app store.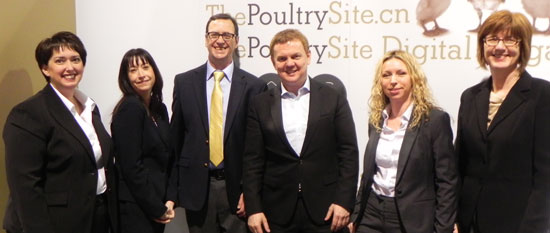 ThePoultrySite staff at IPE
IPE News & Information
Visit our full coverage of IPE here where ThePoultrySite team were fully represented.