American Humane Association Manufacturers Seal of Approval
US - Potters Poultry International were recently awarded the Manufacturers Seal of Approval by the American Humane Association for their bird welfare friendly Aviary the Avitier 125-4 + Avinest.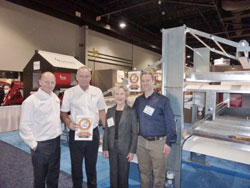 Potters have been making and designing aviary systems for over 22 years and this is the latest in the design based on work carried out on their own farms and for customers around the World.

The Seal was presented to Potters at the IPE 2012 in Atlanta last week by Kathi Brock - Senior Director and Will Gillis Technical Co coordinator for the Farm Animal Programme.

Mike Button, Export Manager for Potters Poultry International said, "We are extremely pleased to achieve the high standards set by the American Humane for equipment and is an endorsement of the research we have done in producing a unique, welfare friendly multi-tier system and nest boxes. With the changing market to welfare-friendly systems in America, we look forward to working further with the industry and American Humane."