CME: Beef, Pork & Poultry Stocks Down from Last Year
US - The latest USDA cold storage report (released on 2/22) showed that total US beef, pork and poultry stocks remain below year ago levels, write Steve Meyer and Len Steiner.
The monthly survey pegged total beef, pork and poultry stocks as of January 31 at 1.974 billion pounds, 2.5% lower than a year ago and 2.6% lower than the five year average (see chart).

The lower stocks, however, were largely due to the sharp reduction in the supply of chicken in cold storage. Broiler producers have been cutting back for more than six months and this appears to have cleaned up the backlog of product that was created in the first half of 2011. While stocks of broiler leg quarters and wings have been tight for some time, we are now seeing breast meat stocks also decline sharply. The latest report pegged the supply of chicken breast in cold storage at 116.6 million pounds, 21% lower than a year ago and 14% lower than the five year average. While the USDA data may not capture all the supply of chicken in freezers across the US, the data does provide an indication of the year/year trend in cold storage supplies. The chicken data is important since this is the time when retailers and foodservice operators are looking at their spring and summer promotions and will try to book product ahead of what appears to be an inflationary grilling season. Chicken breasts have been seen as the value option so far but prices will likely not stay down for long given ongoing supply cutbacks and tight freezer inventories.

While the chicken data painted a generally bullish picture for protein, the pork data was ambiguous. Yes, stocks are up and that could be seen as bearish but we think a good part of the increase in stocks may have to do with more product being put away for export. Those that have a more bearish take on the report will likely note that it is not a good sign when cold storage stocks of pork loins, an item that generally finds good demand in January, rise 25% on year ago levels. Total pork stocks as of January 31 were pegged at 584.4 million pounds, 8.5% higher than a year ago and 8.3% higher than the five year average. However, inventories of hams do not appear burdensome at this time, about steady with year ago levels. Pork belly inventories at 53.7 million pounds were 4.6% higher than a year ago. Judging from the strong belly pricing, we will likely see belly stocks climb fast in February and March as end users try to use freezer hedges ahead of the spring and summer demand One indicator that some of the increase may be export related is the big jump in stocks of pork variety meats, up 33% from a year ago and unclassified pork products, up 29% from a year ago. Inventories of beef in cold storage were reported at 482.1 million pounds, 4.4% higher than a year ago and 5.6% higher than the five year average. Beef imports early in the year were better than the year before and that may have contributed to the modest increase in beef stocks.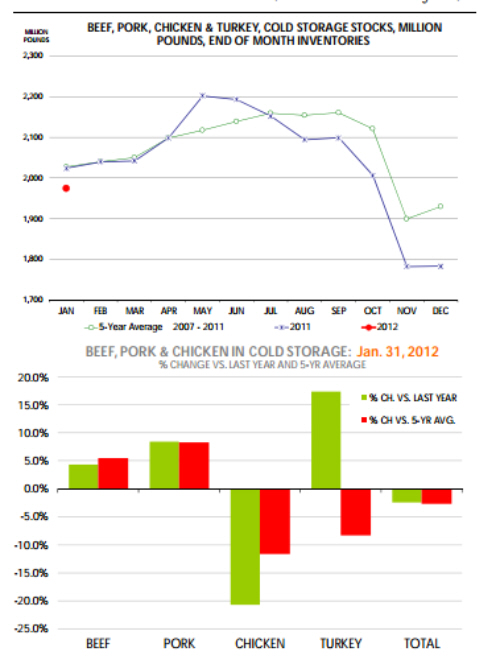 Further Reading