Corporación PIPASA Building Success in Costa Rica
COSTA RICA - 'Exceptional and exemplary performance' - that's the description Cobb gave to Corporación PIPASA of Costa Rica in ranking the company top within its Mexican, Central America and Caribbean market and ninth country in the world on breeder results.
Cobb made the award after analysing performance data from three million breeder hens from Mexico, Central America and the Caribbean, and more than 64 million worldwide.

PIPASA, now part of Cargill Foods Central America, has gained this success for the second consecutive year - this time for not just one but four breeder flocks (San Juan #3, Granja Cacao, Villa Bonita and Modulo #7 from Sardinal).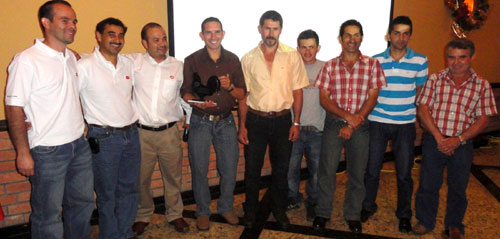 Robin Jarquin of Cobb-Vantress [third left] pictured joining PIPASA farm personnel recognised during the ceremony
Aldo Rossi, general manager of Cobb North America, described the PIPASA farm team as a fine example for the world.

"I have 12 years working for Cobb and we've learned to admire the success arising from the commitment, hard work and constant dedication. Altogether in 20 years of this strategic relationship with Cobb, PIPASA has improved year after year, I congratulate you."

At the ceremony in the Fogo Brasil restaurant in San Jose, Bruce Burdett, leader of Cargill Meats Centroamérica, stated: "This shows why Cargill invested in PIPASA. You are an example on how to do things with excellence. We're really glad of this recognition."

Antonio Echeverría, president of CANAVI (the national poultry association) added: "The whole industry and the country are proud to have PIPASA. It is an honour to know we have the production technology and the best human resource. The spirit and commitment with excellence is evident in PIPASA."